Story Progress
Back to home
Corn Cakes with Sweet Chilli sauce Recipe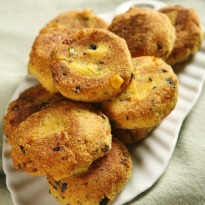 How to make Corn Cakes with Sweet Chilli sauce
Soft dough made out of sweet corn, rice flour and seasoning mixture is fried golden and served with a special chilli sauce.
Total Cook Time

1 hr 20 mins

Ingredients of Corn Cakes with Sweet Chilli sauce
For the Corn Cakes:
1 Cup Sweet Corn (crushed), boiled
1 tsp Thai Coriander Root
1 tsp Garlic
1 tsp White Pepper Corn
1 Tbsp Sugar
To taste Salt
1 tsp Thai Seasoning Sauce
1 tsp Soya Sauce
3 Tbsp Rice Flour
To deep fry Oil
For the Sweet Chilli Sauce:
1/2 Cup Sugar
1/2 Cup Vinegar
1 Tbsp Red Chillies, chopped
To taste Salt
1.
Take a bowl and mix whole corn and crushed corn properly.
2.
Make a paste of Thai coriander root, garlic and white pepper corn.
3.
Add 1 tbsp of the paste to the corn mixture followed by the sugar and add salt.
4.
Add the seasoning sauce and soya sauce. Add the rice flour for binding.
5.
Mix all the ingredients thoroughly. Heat the oil in a deep pan.
6.
Make small balls of the corn mixture and deep fry till golden brown.
7.
To prepare the sweet chilli sauce, grind all the ingredients well.
8.
Serve the corn cakes with the sweet chilli sauce.