Story Progress
Back to home
Chicken Escalope Recipe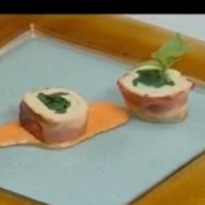 How to make Chicken Escalope
About Chicken Escalope: Stuffed with spinach and mozzarella cheese, chicken breast fillets wrapped in bacon and baked. Served with a cream and sausage sauce. Oh-so meaty!

Ingredients of Chicken Escalope
For the chicken:
1 chicken breast, sliced from the center (Beat the fillets with a mallet to thin them out)
2 rashers of bacon (Beat the meat with a mallet to thin them out)
2-4 slices of mozzarella cheese
2 Tbsp spinach, blanched
1 pinch nutmeg
Salt, to taste
Pepper, to taste
A pinch of chilli flakes
1 Tbsp olive oil
For the sauce:
2 garlic cloves
1 tsp rosemary, chopped
1/2 onion, chopped
1/2 sausage, diced
1 Tbsp olive oil
A splash of white wine
1 Tbsp tomato sauce
2 Tbsp cream
Black pepper, to taste
Basil, to garnish
For the chicken:
1.
On a cling film place the rashers of bacon horizontally, adjacent to each other. Sprinkle some salt and pepper.
2.
Place one chicken breast slice. Sprinkle some salt and pepper.
3.
Place 2 pieces of cheese, then spinach, nutmeg, chilli flakes, olive oil and then the rest of the cheese. Top with the second chicken breast slice.
4.
Wrap the whole chicken with the bacon rashers tightly. Tighten further with the cling. Make a tight package like for a sausage.
5.
Keep in the fridge for 10 minutes.
6.
Once the form is firm, remove the cling and bake for 20 minutes at 190 degrees C.
7.
Cut into 3-4 portions, garnish with basil leaves and serve with the sauce.
For the sauce:
1.
In a pan add olive oil, garlic, onions, sausages. Saute for a few minute. Add a splash of wine and let it evaporate.
2.
Now add tomato sauce, cream, rosemary and pepper. Cook for 2-3 minutes.
3.
Blend the sauce in a food processor.