Story Progress
Back to home
Gnocchi with Tomato Sauce Recipe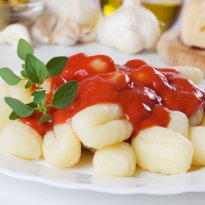 Make gnocchi at home and serve with a simple tomato sauce. This is definitely a most easiest pasta recipe that one can try at home.
Total Cook Time

1 hr 05 mins

Ingredients of Gnocchi with Tomato Sauce
For the gnocchi:
1 kg potatoes
3-4 Tbsp olive oil
2 eggs
300 gm flour
300 gm Parmesan cheese
Salt - to taste
For the tomato sauce:
3-4 Tbsp olive oil
1 kg tomatoes
10-15 garlic cloves
1 onion - finely chopped
10-12 basil leaves
Salt - to taste
Pepper - to taste
1/2 tsp sugar (optional)
1/2 tsp chilli flakes (optional)
For the gnocchi:
1.
Boil the potatoes with salt. Mash them and keep aside.
2.
Beat the eggs and oil into the potatoes.
3.
Add flour and Parmesan cheese in it and mix well with your hands to make a soft dough.
4.
Place the dough on a flat surface and knead it for 10 minutes with some dry flour till soft.
5.
Take a bit of dough, roll it out with your hands into a long strip and cut it into small pieces forming the gnocchi.
6.
Repeat the process making as many pieces as needed.
7.
Then boil them in salted water for about five minutes or until they rise to the top.
For the tomato sauce:
1.
Remove the tomato skin, de-seed and dice them.
3.
Saute the garlic and onion for about five minutes.
4.
Add tomatoes and salt and cook for another five minutes.
5.
If tomatoes are sour add sugar.
6.
Add the pepper, chilli flakes and basil leaves.
7.
Cover and cook on low heat for 10 minutes.
8.
Once cooked, pour the sauce over the gnocchi.
9.
Garnish with some parmesan cheese and basil leaves. Serve hot.