Story Progress
Back to home
Halloween Chorizo And Goat Cheese Risotto Recipe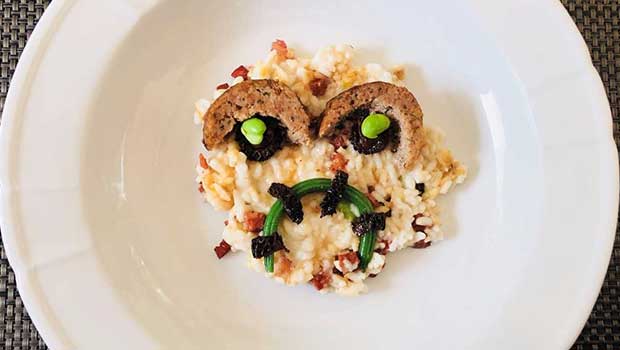 How to make Halloween Chorizo and goat cheese Risotto
Meat loaf scrambled with bread crumbs, sugar and egg, served along chorizo and risotto. A perfect halloween snack !
Total Cook Time

1 hr 35 mins

Ingredients of Halloween Chorizo And Goat Cheese Risotto
For Meat Loaf:
750 gram Minced Lamb
2 Eggs
150 gram Onion
1 cup Milk
100 gram Bread Crumb
25 gram Brown Sugar
35 gram Mustard Dijon
80 gram Tomato Ketchup
to taste Salt
to taste Pepper
For Risotto:
350 gram Risotto Rice
100 ml White Wine
100 gram Chorizo, chopped
10 gram Basil
120 gram Goat Cheese
50 gram Onion
175 gram Butter
150 gram Parmesan Cheese
1 Lemon Zest
to taste Salt
to taste Pepper
1.
In a large bowl, combine the minced lamb, egg, onion, milk and bread crumbs.
2.
Season with salt and pepper to taste and place in a lightly greased loaf pan
3.
In a separate small bowl, combine the brown sugar, mustard and ketchup. Mix well and pour over the meatloaf.
Prepare Risotto :
1.
In a medium saucepan, melt the butter in the olive oil. Add the onion and cook over low heat.
2.
Add the rice and cook over moderate heat, about 1 minute. Add the wine and simmer until almost evaporated,
3.
Add 1 cup of the simmering stock and cook, stirring constantly, until it is absorbed.
4.
Continue to add the stock, 1 cup at a time until the risotto is done.
5.
Remove the risotto from the heat and stir in the basil, goat cheese, and Parmesan and lemon zest. Season the risotto with salt and pepper and serve with meat loaf.