Story Progress
Back to home
Hot Cross Buns Recipe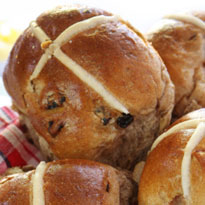 Make this Easter favorite at home. It is tradition to eat hot cross buns on Good Friday.
Total Cook Time

2 hrs 15 mins

Ingredients of Hot Cross Buns
450 gm flour
1 1/2 tsp cinnamon powder
1 tsp salt
A pinch of grated nutmeg
25 gm yeast
50 gm sugar
2 eggs
75 gm raisins
75 gm chopped candied peel
Beaten egg to glaze
1.
Sieve flour; cinnamon and salt, add nutmeg.
2.
Crumble yeast into a small dish; sprinkle over 1 tsp sugar. Liquify.
3.
Heat milk, sugar and butter together until tepid.
6.
Knead well. Allow it to rise until double in volume. (1/2hr)
7.
Knead in fruit. Allow it to rise.(10-15 minutes)
10.
Mark with flour crosses and allow it to "prove" in a warm place. (35-40 minutes)
12.
Bake in a preheated oven at 200 degrees C for 15-20 minutes.
13.
Whilst hot, brush with warm milk and sugar.