Story Progress
Back to home
Keerai Masial with Carrot and Coconut Rice Recipe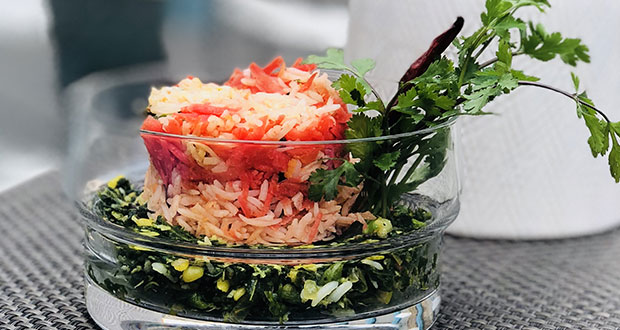 How to make Keerai Masial with Carrot and Coconut Rice
A quick and easy healthy spinach dish along with rice to celebrate the spirit of Republic day.

Ingredients of Keerai Masial with Carrot and Coconut Rice
300 Gram Spinach (blanched), chopped
50 gram Green lentils (moong dal, split)
40 gram Onion, chopped
30 ml Clarified butter
5 gram Whole cumin seeds
3 nos Red chilli whole
3 gram Mustard seeds
10 nos Curry leaf
30 gram Coconut, grated
3 gram Turmeric powder
8 gram Ginger, chopped
to taste Salt
For Carrot and Coconut Rice:
1 cup Basmati rice
1 tbsp Vegetable oil
1 small Onion
1 Madras curry powder
to taste Salt
1 Dry red chilli
Carrots, grated
Coconut
50 gram Cilantro springs, grated
1.
Cook rice. Heat oil in a large frying pan over medium- Cook onion, curry powder, salt, and chilly until onion is softened, about 3 minutes.
2.
Add carrots, grated coconut, and little water. Now add rice sauté and sprinkle with cilantro.
3.
Take a glass bowl and arrange the two dishes as desired.