Story Progress
Back to home
Khaboos Recipe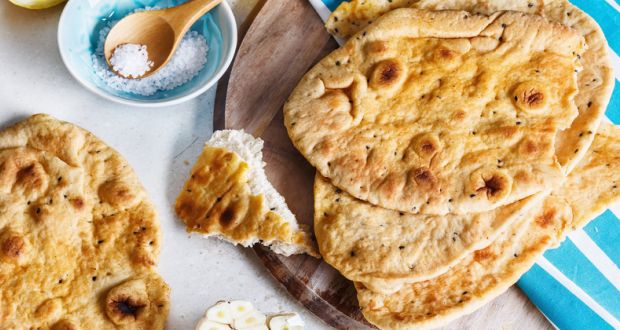 Khaboos is an Iranian or Arabic flat-bread made with maida. Goes well with stews, hummus or dips.

Ingredients of Khaboos
4 cups refined flour
1 1/4 cups yoghurt
1 tsp baking soda
1 tsp salt
onion seeds to garnish
1.
1. Sift the flour along with the salt and the soda, and knead it to a soft, smooth dough, with the yoghurt.
2.
2. Cover with a damp cloth, and leave to rise in a warm, draught free place.
3.
3. If in a hurry, place the dough container in a larger container of hot water, covered with a damp cloth, of course. Takes about 2 hours to rise.
4.
4. Punch the dough and leave to rise again.
5.
5. This time it will take much less time.
6.
6. Knead the dough a little before breaking it up into walnut sized pieces.
7.
7. Smoothen these into round balls, cover with a damp cloth and leave thus, for at least 15 minutes.
8.
8. Roll the balls into flat oval or round shapes, stretching and pulling with your hands when required.
9.
9. When all are rolled thus, dampen the surface with water or milk, and sprinkle the onion seeds over them.
10.
10. Bake these in a preheated oven, on a greased baking tray for about 5 minutes.
11.
11. Better still, is to grill them if your griller has elements both above and below.
12.
12. Of course, if you have a clay oven tandoor, wet the lower surface with water and stick it to the walls of the tandoor.
13.
13. To make the naan tastier, brush it with melted butter or 'ghee' as soon as it comes out of the oven.