Story Progress
Back to home
Khatta Meetha Baingan Recipe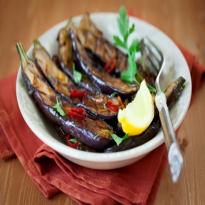 How to make Khatta Meetha Baingan
Brinjals with the ideal balance of sweet-sour tang.

Ingredients of Khatta Meetha Baingan
10-12 small brinjals
Oil for frying
1 tsp cumin seeds
1 Tbsp ginger-finely chopped
1/2 cup tomato-finely chopped
1 cup tomato puree
2 tsp coriander powder
1/2 tsp turmeric powder
1/2 tsp garam masala
2 tsp salt
1 tsp chilli powder
1 Tbsp sugar
1 tsp vinegar
1/4 cup coriander leaves chopped
1 tsp green chillies
1.
Wash and wipe the brinjals and slit them.
2.
Heat oil and fry the brinjals over high flame, till slightly soft but still retain their shape and colour.
3.
Take 1/4 cup oil in another pan, add cumin and once it splutters, add ginger.
4.
Sauté to a very light brown colour.
5.
Add tomatoes and tomato puree, mix well and add coriander, turmeric, garam masala, chilli powder, salt, sugar and vinegar.
6.
Sauté till the oil separates.
7.
Add the brinjals, green chillies and half of the coriander leaves.
8.
Cook further for about 5 minutes.
9.
Garnish with remaining coriander leaves and serve hot.