Story Progress
Back to home
Lagan Ka Gosht Recipe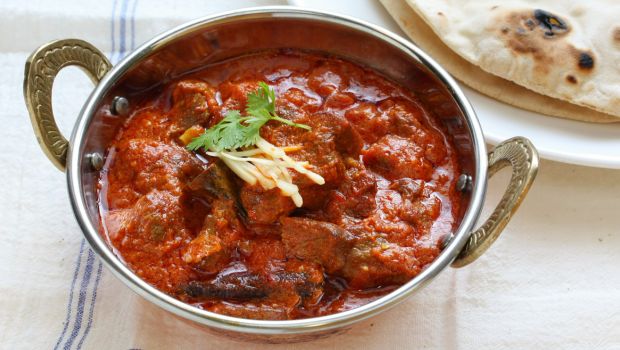 How to make Lagan Ka Gosht
For all the mutton lovers, this famous Gosht recipe is known to be a Hyderabadi delicacy. A perfect meal for dinner parties.
Total Cook Time

1 hr 20 mins

Ingredients of Lagan Ka Gosht
450 Gram Lamb Leg (Boneless, cut into 2 inch cubes)
For Pre-marinade:
20 gram Garlic Paste
15 gram Ginger Paste
6 gram Red Chilli Powder
100 gram Yoghurt (Whisk well)
to taste Salt
For Cooking:
6 tbsp Clarified Butter (Desi Ghee)
100 gram Onions, sliced
15 gram Gram Flour, roasted
1 tsp Green Cardamom Powder
1 tsp Cumin Seed Powder , roasted
1/2 tsp Black Pepper Powder (Kaalimirch)
A pinch of Clove Powder (Lavang)
A pinch of Nutmeg (Jaiphal)
10 gram Mint Leaves, finely chopped
10 gram Fresh Coriander Leaves, finely chopped
1 tsp Lemon Juice
1 inch piece Ginger, julienne
1.
Mix all the pre-marinade ingredients with the lamb in a bowl, mix well and keep aside for a minimum of 45 minutes.
2.
Lamb should ideally be reserved for 4-6 hours.
3.
Add Clarified butter to a pan, set to medium heat, add onions and stir and roast until the onions are golden brown.
4.
Remove one fifth of the roasted onions and retain. Add half cup of water and continue to stir and roast until all the moisture has dried up.
5.
Add the marinated lamb, increase heat to medium high, stir and roast for a minute.Reduce heat to medium, and continue to stir and roast until fat appears on the sides.
6.
Add one cup of water, bring to a boil, cover, reduce heat to low and simmer, stirring occasionally until lamb is fully cooked.
7.
Increase heat to medium and continue to stir and roast until fat starts appearing on the sides. Increase heat to high sprinkle the gram flour and continue to stir and roast for a minute.
8.
Now add the cardamom, cumin, pepper, clove and nutmeg powders. Stir for a minute and add the lemon juice, coriander and mint leaves, stir, adjust the seasoning and remove.
9.
Transfer to a bowl, garnish with the reserved roasted onions and coriander leaves. Serve hot.