Story Progress
Back to home
Mushroom and Herb Filled Tomatoes Recipe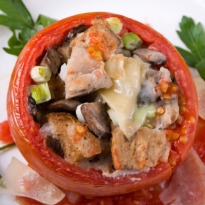 How to make Mushroom and Herb Filled Tomatoes
Tomatoes stuffed with scrumptious ingredients topped with sauteed breadcrumbs.

Ingredients of Mushroom and Herb Filled Tomatoes
6 Large Firm Tomatoes
1 tsp Butter
1 Large Onion, finely chopped
100 Gram Mushrooms, finely chopped
2 tsp Four
150 Ml Milk (Scalded, flavored with mustard, bay leaf, peppercorns and nutmeg)
1 Capsicum (diced)
2 tsp Garden herbs
A pinch of Chilli powder
To taste Salt and pepper
For the topping:
2 Tbsp Breadcrumbs (fresh)
1 tsp Butter/Oil
1 tsp Garlic, finely chopped
1/2 tsp Basil leaves/Oregano (optional)
1.
Prepare tomatoes. Scoop out seeds and turn upside down on a rack to drain.
Prepare the filling:
1.
Melt butter and saute onions and mushrooms for 5 minutes.
2.
Stir in flour and strain in the hot scalded milk. Thicken.
3.
Then stir in the capsicum, herbs, chilli and seasoning.
4.
Fill into tomatoes and top with breadcrumbs that have been sauteed until colored with the butter, garlic and herbs.
5.
Bake for a couple of minutes. (3-5 minutes)