Story Progress
Back to home
Panada Sauce Recipe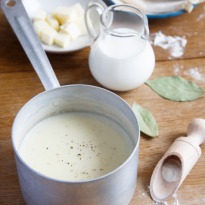 Panada sauce is a thick, milky white sauce which is usually added to bind the batter. It may be used as thickening agent in soups and bakes.

Ingredients of Panada Sauce
1/3 cup flour
3 Tbsp butter or oil
1 cup milk
1 tsp salt or to taste
1.
Heat the butter/oil for the sauce and add the flour.
2.
Saute over low heat till slightly colored.
3.
Add milk, stirring vigorously all the time, so no lumps form.
4.
Bring to a boil and cook for a minute or so.