Story Progress
Back to home
Parmesan Herbed Walnuts Recipe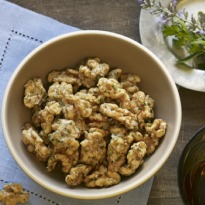 Walnuts coated in an egg white mixture with herbs, garlic and Parmesan cheese. Baked till crisp. The perfect winter snack.

Ingredients of Parmesan Herbed Walnuts
1/2 cup grated Parmesan cheese
1 tsp parsley flakes
1/2 tsp Italian herb seasoning
1/2 tsp garlic salt
Dash of cayenne pepper
1 egg white
2 cups walnut halves and pieces
1.
In a medium bowl, combine Parmesan cheese, parsley flakes, herb seasoning, garlic salt and cayenne pepper. Set aside.
2.
In a separate medium bowl, beat egg white until frothy.
3.
Add walnut halves and pieces. Toss to coat.
4.
Add walnuts to cheese mixture. Mix thoroughly.
5.
Spread in a single layer on a lightly oiled baking sheet. Bake in 250° F oven for about 30 minutes, until golden and crisp.
6.
Cool and store re in an airtight container.