Story Progress
Back to home
Red Capsicum Salsa with Melba Toast Recipe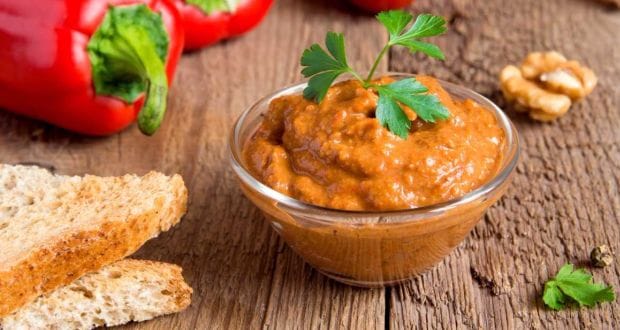 How to make Red Capsicum Salsa with Melba Toast
A zesty red bell pepper salsa served with pickled vegetables and a dry melba toast. Perfect start to your brunch party.

Ingredients of Red Capsicum Salsa with Melba Toast
4-6 Tbsp oil
50 gm chopped red bell peppers, ground
1 Tbsp sweet chilli sauce
3-4 Tbsp lemon juice
1 Tbsp grated jaggery
Accompaniments:
Assorted vegetables
Melba toast (Melba toast is a dry, crisp and thinly sliced toast)
1.
Heat oil. Add bell pepper paste and chilli sauce. Simmer for 15 minutes with the lid on.
2.
Remove lid and continue cooking the capsicum until the oil separates. Cool.
3.
Blend paste in a food processor. Sharpen with lemon juice and sprinkle in sugar to taste.
4.
Serve with the accompaniments.
Prepare Melba toast:
1.
Cut the crusts off fresh slices of bread.
2.
Roll them out thin and fine with a rolling pin.
3.
Slice them down and brown in a moderate oven until crisp.
4.
Serve with the dip and assorted pickled vegetables.