Story Progress
Back to home
Saffron Paneer Dessert Recipe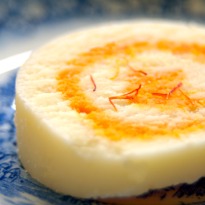 A delicate dessert made of paneer with the flavors of saffron, cardamom, almonds, raisins and rich cream.

Ingredients of Saffron Paneer Dessert
250 gm home-made paneer
1 tsp roasted semolina
2-3 Tbsp castor sugar
1 tsp crushed cardamom seeds
1 Tbsp almond powder
1 Tbsp sliced pistachio nuts
1 Tbsp raisins
1 Tbsp cream/ milk
For the Topping:
2 Tbsp cream
1 tsp soaked saffron strands
2 Tbsp dried fruit
1 paan leaf
1
1 piece of coal
1 Tbsp ghee
1.
Beat paneer until smooth.
2.
Add semolina, sugar, spice and almond powder. Cook on a slow flame for five minutes.
3.
Stir in the pistachio nuts. Bind with cream and place in a heatproof bowl.
For the Topping:
2.
Sprinkle with saffron and dried fruit.
3.
Press on the paan leaf and place the cinnamon stick on top with the hot coal.
4.
Pour on hot ghee and seal for five minutes.
5.
Remove the foil and serve.