Story Progress
Back to home
Sarson da Saag Recipe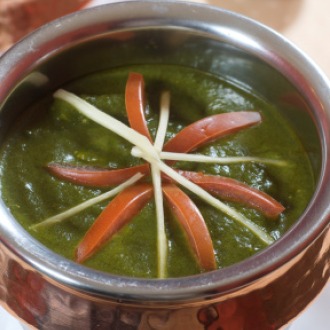 Nothing is more quintessentially Punjabi than sarson da saag paired with makki di roti. A stew-like preparation made with mustard greens.
Total Cook Time

1 hr 15 mins

Ingredients of Sarson da Saag
750 gm sarson da saag/ mustard leaf (roughly chop)
250 gm spinach (roughly chop)
100 gm moolipatta / white radish leaf (roughly chop)
30 gm mathua (roughly chop)
30 gm ginger (diced)
8 green chilli (slit & deseeded)
45 gm rice
60 ml mustard oil
15 gm makki ka atta / maize flour
200 gm white butter
100 gm jaggery / gur
1 nasturtium (edible flower)
Salt to taste
1.
Put all the ingredients, except maize flour, gur and white butter, in a handi/pan.
2.
Add water 2 litres of water, bring to a boil, reduce to low heat and simmer until the greens are tender for about 45 minutes.
3.
Remove handi/pan from heat and churn with a wooden churner.
4.
Return handi/pan to heat, add maize flour, cover and simmer over very low heat, stirring at regular intervals, for 1 hour.
5.
Remove and adjust the seasoning.
6.
Pour in a bowl, and add large dollops of butter.
7.
Add a few petals of edible flower and serve with gur and Makki ki Roti.