Story Progress
Back to home
Simnel Cake Recipe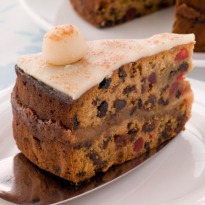 Simnel cake is a dry fruit cake layered with marzipan. It is one of the most popular Easter bakes. Try this recipe at home and indulge!
Total Cook Time

2 hrs 15 mins

Ingredients of Simnel Cake
250 gm butter
250 gm grated jaggery
2 tsp grated lemon rind
50 gm almond powder
4 eggs
1 tsp cinnamon powder
250 gm flour
1/2 kg raisins
250 gm black currants
250 gm sultanas
100 gm mixed chopped peel
1-2 Tbsp milk
For the marzipan:
375 gm almond powder
200 gm icing sugar
175 gm castor sugar
1-2 eggs
1/2 tsp vanilla essence
2 tsp lemon juice
To Make Marzipan:
1.
Combine dry ingredients and bind with egg essence and lemon juice. Roll out into rounds. Keep aside.
For the Cake:
1.
Cream butter, jaggery and lemon rind together.
2.
Gradually beat in the eggs.
3.
Fold in flour, cinnamon, almond powder and dried fruit, and add a little milk.
4.
Place half the mixture in a greased and lined tin.
5.
Press a circle of marzipan over the base.
6.
Top with remaining batter.
7.
Bake at 170 degrees C for about 1 1/4 hours.
8.
Press a round of marzipan on top and serve decorated with marzipan balls.