Story Progress
Back to home
Smoked Pumpkin Soup Recipe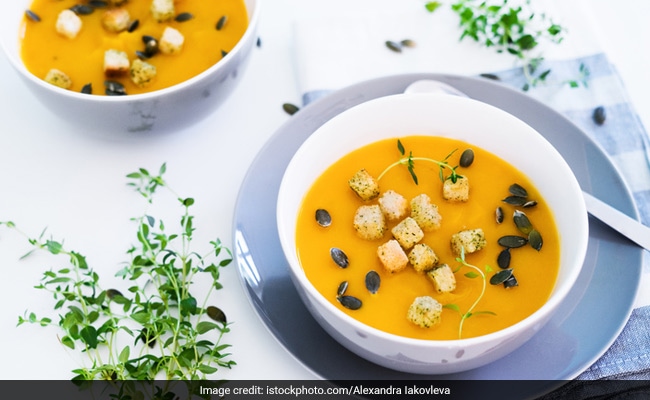 How to make Smoked Pumpkin Soup
About Smoked Pumpkin Soup Recipe: This aromatic soup is the perfect dish to help you fight off mid-week blues. The smoked flavour gives the classic pumpkin soup a whole new twist.

Ingredients of Smoked Pumpkin Soup
1 Kg yellow pumpkin
to taste salt
20 gms sugar
20 ml oil
10 gms smoke chips
20 gms garlic, chopped
10 gms pepper powder
For the garnish:
20 gms pumpkin seeds, roasted
A few sprigs water cress
1.
Peel and slice the pumpkin after washing it. Remove the seeds, and cut into cubes of even sizes.
2.
Mix oil and garlic, and toss the pumpkin pieces in it to coat them well.
3.
In an oven tray, arrange the pumpkin pieces. Sprinkle the sugar and a little salt on top.
4.
Preheat the oven and bake the pumpkin at 160 degree Celsius till they are tender (depends on the size of the pumpkin, normally takes 10-15 minutes).
5.
Remove the tray from the oven and cool the pumpkin.
6.
For smoking the pumpkin ,arrange it in an inclosable chamber (may be a vessel with loose fitting lid so that air can pass slightly).
7.
In a small metal bowl or dish, fire up some smoke chips. Put it in the above vessel and cover it with the lid. Leave it for 10 minutes so that the pumpkin can absorb the aroma.
8.
Remove the pumpkin pieces and puree them in a blender (add a bit of water if needed).
9.
Pour the pureed pumpkin in a pan and heat it on medium flame. Add butter and pepper powder. Adjust seasoning if required.
10.
Serve hot in individual soup bowl garnished with cress and pumpkin seeds.