Story Progress
Back to home
Stromboli Recipe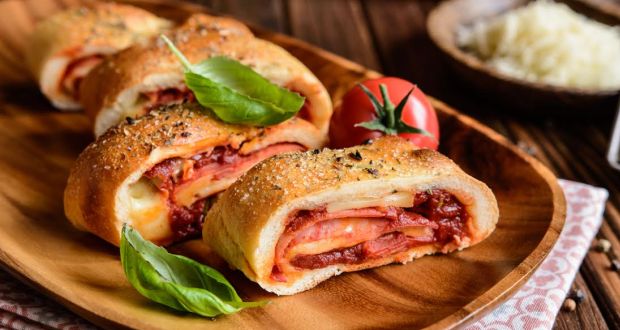 How to make Stromboli
About Stromboli Recipe: Freshly made dough smeared with tomato sauce, seasoned paneer filling, mozzarella and the ricotta cheese, folded into half and baked. Stromboli is known to have originated in United States.
Total Cook Time

1 hr 15 mins

Ingredients of Stromboli
For the dough:
250 gms flour
10 gms yeast
10 gms salt
1/2 tsp sugar
1/2 tsp olive oil
1 cup water
For the filling:
50 gms paneer, chopped
1 bunch spinach (blanched), chopped
1/2 tsp lemon zest
1 cup black olives
2 pcs sun-dried tomatoes with it's oil
1 tbsp mozzarella cheese
1 tbsp jalapeno chillies
1 tbsp ricotta cheese
1 tsp olive oil
2 garlic cloves, sliced
1 green chilly, chopped
For the sauce:
2-3 basil leaves
2 ripe tomatoes
Few leaves of oregano
1 tsp tomato puree
Salt and pepper to season
1.
Put the yeast in water for it to start reacting and then mix it with the flour.
2.
Put it in a kitchen aid and mix till it all comes together and looks like a dough.
3.
You can tell it's done once it does not stick to anything.
4.
Leave it to prove in a warm place, until it doubles in its size.
For the filling:
1.
In a hot pan put the sun-dried tomatoes with it's oil, jalapenos, green chilli, spinach, olives, lemon zest, garlic and paneer.
2.
Put in some cracked black pepper and salt to season.
5.
Cut the tomatoes in fours and put in the mixer; put some basil, oregano and tomato puree.
6.
Blend the ingredients into a nice sauce.
7.
Season it with salt and pepper.
8.
Flatten out the dough and roll it into a 12'' diameter.
9.
Spread the tomato sauce on the flattened dough and stuff with the paneer filling.
10.
Sprinkle the shredded mozzarella and the ricotta cheese on the dough.
11.
Sprinkle with cracked black pepper and fold into a crescent shape or half circle.
12.
Bake in the oven at 225 C for 15-20 minutes.