Story Progress
Back to home
Sweet and Sour Chicken Recipe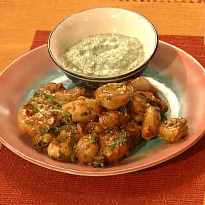 How To Make Sweet and Sour Chicken
Serve this delicious crispy chicken with sweet and sour sauce, and grated cucumber at your next get together.

Ingredients of Sweet and Sour Chicken
1/2 kg boneless chicken, cut into 1 1/2 inch cubes
Salt and freshly ground black pepper
2 Tbsp rum
1 tsp red chilli sauce
1 Tbsp chopped spring onions
2 tsp garlic paste
2 egg whites
4 Tbsp corn flour
Oil for deep frying
Sweet and Sour Sauce :
1 Tbsp sesame oil
3 Tbsp spring onions cut into 1
2 chopped garlic
1 dried red chilli
1 capsicum
3 Tbsp vinegar
2 Tbsp sugar
2 Tbsp tomato ketchup
1 Tbsp soya sauce
250 ml chicken stock
2 tsp corn flour dissolved in 1 tbsp water
3 Tbsp chunked pineapple
3 Tbsp peeled, grated cucumber
1.
Combine chicken with marinade ingredients. Set aside for 2-3 hours.
2.
Deep fry in hot oil until chicken is tender.
3.
Drain and keep warm while preparing the sauce.
For the Sauce:
1.
Heat sesame oil. Stir-fry spring onions, garlic and chilli for 1 minute.
2.
Add capsicum and cook for 1/2 a minute.
3.
Stir in vinegar, sugar, sauces and chicken stock.
4.
Season and thicken with a little corn flour. Cook for 2 minutes.
5.
Add pineapple to the sauce with cooked chicken.
6.
Reheat. Serve with grated cucumber.