Story Progress
Back to home
Tonkatsu Recipe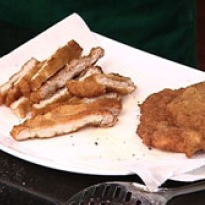 Pork chops dipped in batter, rolled in bread crumbs and deep fried.

Ingredients of Tonkatsu
4 pork chops
1/2 tsp salt
1/4 tsp pepper
1/4 cup flour
1 egg
1/2 cup panko bread crumbs
Vegetable oil - for frying
1.
Cut the edges of the pork chops. Sprinkle salt and pepper on the pork.
2.
Put flour lightly on the pork. Dip the pork in beaten egg. Put panko on the pork and pat them well.
3.
Deep fry the pork for a few min. Turn over the pork chops and fry for a few more minutes.
4.
Take out the pork and put them on a paper towel to drain the oil.
5.
Cut each tonkatsu into small pieces. Serve Hot.