Story Progress
Back to home
Tricolor Cottage Cheese Skewers Recipe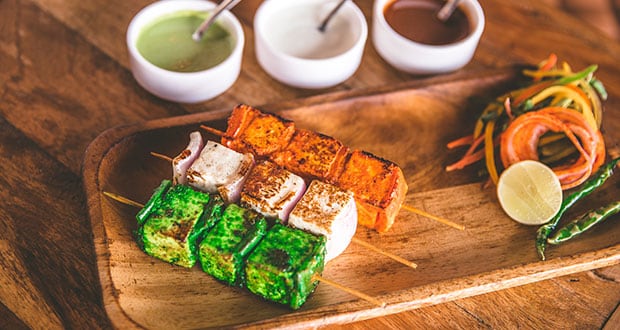 How to make Tricolor Cottage Cheese Skewers
These Tricolor Cottage Cheese Skewers are the perfect snack to celebrate the spirit of Independence day right at your home. Sweet, tangy and spicy all at once, Time Machine restaurant gives us the ultimate snack to relish on this holiday.
Total Cook Time

4 hrs 35 mins

Ingredients of Tricolor Cottage Cheese Skewers
180 Gram Paneer (divided into 9 squares, into three bowls)
For first marination:
20 gram Fresh Basil Pesto
30 gram Yogurt
30 gram Fresh Cream
4 pieces Green bell peppers (cut into squares)
to taste Salt and Pepper
For second marination:
30 gram Fresh cream
30 gram Yogurt
30 gram Tahini paste
1/2 tbsp Cardamom powder
1/2 tbsp Onion powder
1/2 tbsp Garlic powder
4 pieces Onion (cut into squares)
to taste Salt and white pepper
For third marination:
30 gram Yogurt
30 gram Fresh cream
20 gram Sun dried tomato pesto
1/2 tbsp Lemon juice
4 pieces Red bell pepper (cut into squares)
to taste Salt and black pepper
1.
Marinate the cottage cheese in their respective mixes for a minimum of 4 hours, preferably overnight.
2.
Brush a lava grill with oil or non-stick pan with olive oil and sear all sides of the skewer.
3.
Transfer the marinated mixes to a hot oven 180 degrees and cook for approximately 5-10 minutes or till cooked all the way through.
4.
Serve hot with a julienned bell pepper salad, a lemon wedge and marinated onions.
Recipe Notes
Serve the hot skewers with a chutney of your choice.
Also read about breakfast recipes that you can enjoy on the Republic day holiday.