Story Progress
Back to home
Vegetarian Stock Recipe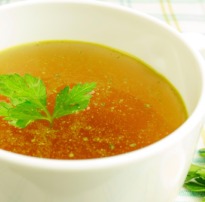 Home-made vegetable stock to add freshness to your recipes.

Ingredients of Vegetarian Stock
1 kg mixed vegetables
2 tbsp oil
6 cups water
1 large onion-chopped roughly
4 tbsp chopped celery
1 bay leaf
2 cloves
2 peppercorns
1 tsp salt.
1.
Cook all the ingredients together in a pressure cooker for about 5 minutes.
2.
If not using a pressure cooker, bring to a boil and then simmer in a covered pan for 15-20 minutes.
3.
Strain the soup and season according to taste.