Story Progress
Back to home
Lamb Tagine Recipe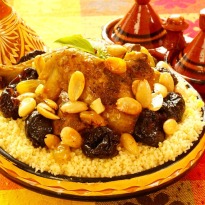 Delicious lamb cooked with apricots, yoghurt and paprika. Tagine is a popular Moroccan dish which is named after the earthenware pot in which it is cooked.

Ingredients of Lamb Tagine
1.2 kg diced lamb
2 tsp sweet paprika
2 tsp ground coriander
2 tsp ground cumin
1 1/2 tsp ground ginger
1 tsp chilli powder
1 tsp cinnamon
1 tsp white pepper
1/2 tsp ground cardamom
1/2 tsp allspice
Salt to taste
2 Tbsp olive oil
Juice of 2 lemons
1 cup chicken stock
3/4 cup dried apricots
1/2 cup raisins
1 cup thick, yoghurt
1/2 cup pistachio kernels, roughly chopped
Couscous, to serve
1.
Combine spices and salt in a large bowl.
2.
Add oil, rind and half the juice and stir to form a paste.
3.
Add lamb and stir until well-coated in paste.
4.
Cover and refrigerate for 3 hours if time permits.
5.
Preheat oven to 180°C and put lamb mixture into a casserole dish with a tight-fitting lid.
6.
Add stock and remaining lemon juice. Stir until well-combined.
7.
Cover and cook for 1 hour.
8.
Stir in dried apricot and raisins.
9.
Cook, covered for a further 40 minutes or until lamb is tender.
10.
Serve immediately with a dollop of yoghurt, sprinkling of pistachio kernels and couscous on the side.