At Italia, Relish Authentic North Italian Cuisine
IANS , New Delhi | Updated: May 15, 2013 11:18 IST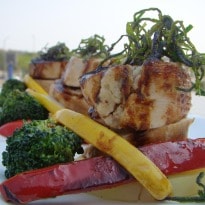 Italian cuisine is not just about pizzas and pastas, it offers a wide range of food - from salads and spicy appetizers to soups and curries.

Keen to try out other varieties, then visit Italia, an authentic Italian Restaurant by Park Hotel at the DLF Promenade, known for bringing in different food items and flavours from various part of Italy.

This time chef Somopriyo Basu has included dishes popular in northern Italy. "Poeple there are fond of stuffed pastas like Gnochchi, risottos, soups and varied meats. They use unsalted butter and olive oil extensively," he said.

Although potatoes, peppers, maize, cheese and sauces remains common, in northern Italy, people use less tomatoes. They rather go for chopped herbs to add flavour. They like to boil, fry, braise and stew the meat to make all sorts of interesting dishes. Fish and rice forms the main-course.

The restaurant changes its menu every six months and provides the best of delicacies.

"But we keep our signature dishes. We have incorporated more of risottos, stuffed pastas and meats," said chef adding: "We import all the ingredients and we do not experiment with the recipes. We keep it authentic."

We began our meal with tangy and juicy refreshing salad, prepared with assorted veggies, sliced cucumber, sun-dried tomatoes and black olives. Balsamic vinegar dressing certainly enhanced the taste.

Next was peppery and little sweet Stuffed Button Mushroom. Made with sun-dried tomatoes, walnuts and Parmesan cheese, the light and crispy appetizer was perfect for those who love mushrooms.
It was followed by Fresh Basil Pesto Soup. The hot and spicy soup had lots of green vegetables, basil leaves and pesto sauce.

The chef informed us that "pesto sauce originated in Genoa in the Liguria region of northern Italy. Italian cuisine is incomplete without basil, pesto and Parmesan cheese".

For the main-course, the chef served one of their signature pizzas - Pizza Italia. Wood-oven thin-crust pizza had the flavours of pesto, artichokes, olives and sun-dried tomatoes. However, this one was slightly overcooked.

But another tangy dish called Potato Gnocchi Dumplings was soft and melted in our mouth.

Explaining about Gnocchi, the chef said it is a kind of "thick, soft dumpling made by using wheat flour, eggs and cheese".

The dumplings were stuffed with mashed potatoes and a mix of garlic, tomato, goat cheese, basil and pesto enhancing the flavour.

Among non-vegetarian delicacies, John Dory, a fish prepared with creamy spinach and balsamic dressing, kicks your taste buds and the best part is that it doesn't smell like fish at all.

It was fresh, crispy and tasted perfect with spinach.

"This is a popular Italian dish. The fish is first marinated and then fried," said the chef.

For those who love ending their meal with a dessert, they can try tiramisu, a chocolate brownie pudding.

We recommend the restaurant to those who look beyond pizzas and pastas.

Rating: 9/10
Speciality: North Italian dishes
Meal for two: Rs.2000 (plus taxes)