Best vegetarian Italian recipes: Some say love conquers all, but I say Italian food does. I'm thrilled to dig into a bowl of spaghetti with meatballs any day of the week, but there's something more to Italian cuisine than just meat. I'm somehow partial to grilled artichoke hearts stuffed with walnuts and parmesan, baked gnocchi with ricotta and marinara, bruschetta bursting with flavours of pesto and sundried tomatoes... And that's saying something, considering I wave off the vegetarian section at first glance every. single. time. Can you blame me? Even Massimo Bottura, the owner of Modena's famed Osteria Francescana, invented a revolutionary risotto that's all about the parmesan and pepper.

So let's embrace all the tried-and-true Italian comfort foods. Buon Appetito!
Here are 13 Vegetarian Italian Recipes You Can Try At Home:

This timeless antipasti is what made me fall in love with Italian cuisine. It's truly a magical combination of flavours, textures and freshness with tomato, mozzarella and basil and either a drizzle of sweet balsamic reduction of pesto (or both). Side note: It even represents the 3 colours of the Italian flag.



(Also Read: 10 Exotic Salads From Around The World)
A filling vegetarian Italian meal that's so hearty you won't even miss the meat. This Italian casserole layered with parmesan cheese and tomatoes is a fabulous way to serve eggplant, indeed. Serve with a bed of rocket salad and some crispy garlic bread.

(Also Read: 10 Best Italian Food Recipes)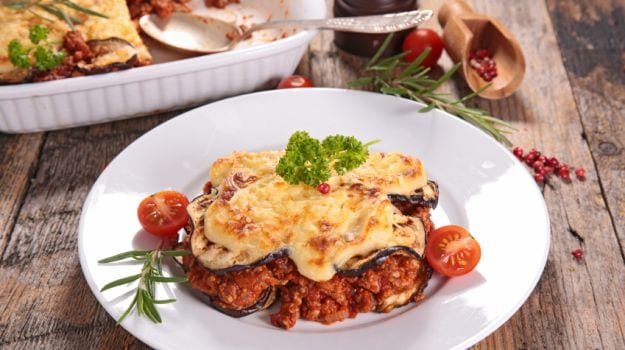 Ideal for summer, cook up some Panzanella when you're in the mood for a chilled glass of Prosecco and a whole lot of sunshine! It does not follow any particular recipe, so play around with flavours and textures.


(Also Read: Debunking 5 Common Myths about Italian Cuisine)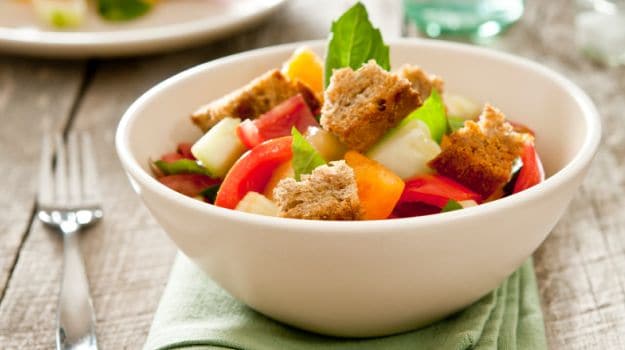 The flavors of dried and fresh mushrooms beautifully carry through in this classic Italian risotto, made from plump Arborio rice. If you're in the mood to indulge, stir in some extra parmesan and butter at the end, maybe even a splash of white wine.
A sudden snack attack can hit you anytime anywhere! Here comes a plateful of bruschetta to the rescue, with the classic tomato and basil topping or even creamy mushroom and
garlic
.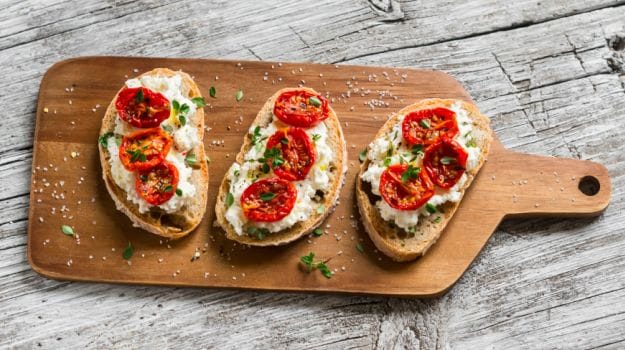 Cheese lovers, rejoice! We bring you a gourmet version of mac n' cheese with parmesan, cheddar, brie and emmental. It's easy to follow and surely doesn't get more cheesy than this. For an extra kick of flavour, you can even sprinkle some rosemary and thyme.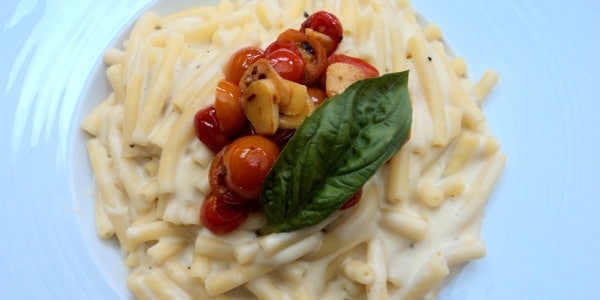 You can never go wrong with this hearty, home-style baked pasta recipe, mingled with greens, tangy tomato sauce and cheese galore. Top it off breadcrumbs and bake to perfection.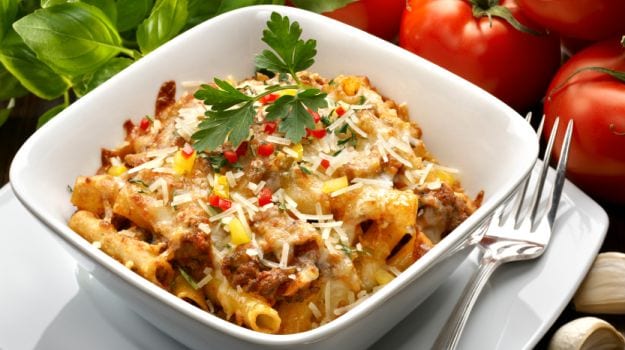 Here's an all-star recipe featuring paneer and corn with a hint of pepper, baked with a whole lot of cream and cheese. Serve with a tossed salad, crusty garlic bread and dry white wine.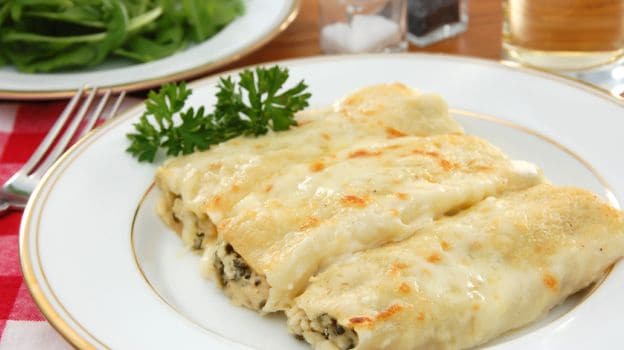 Pour a smooth sauce of coconut milk, spring onions and fragrant lemongrass over ravioli stuffed with a mix of greens and go straight to foodie heaven! The coconut milk surprisingly pairs well with ravioli and makes it drool-worthy.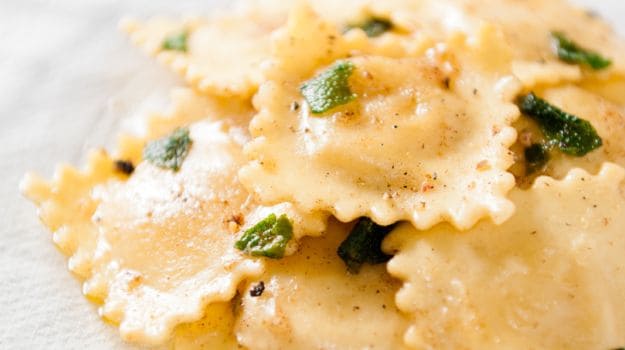 Having a rough day? Here's a giant bowl of pasta to solve all your problems. Flavoured with fresh basil, tomato and cloves - it just doesn't get more basic than this. You're in for a treat, we promise.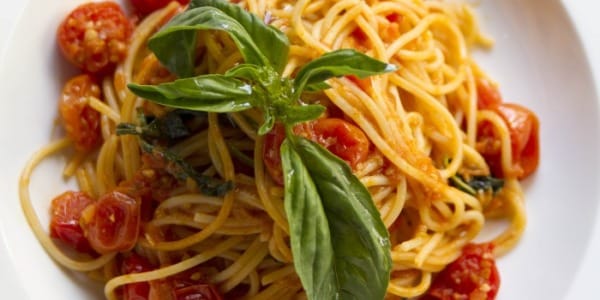 Layers of lasagna sheets, creamy white sauce, crisp veggies and lots of cheese- this wholesome and filling treat is not only healthy but a delight at any time of the day. Brunch, Lunch or dinner this cheesy treat is a show stealer.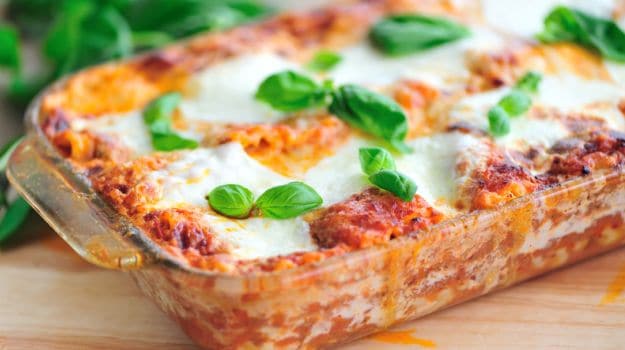 Zucchini, capsicum, feta cheese and spinach leaves, this veggie delight combines classic flavours and takes you on a joy ride of flavours. Make sure the veggies you pick are fresh so that you are able to retain the delicious crunch that comes with it.
A soothing and heart-warming combination of rice, cheese and vegetable broth cooked slowly along with white wine. This risotto is the perfect dish to try when you are out of time but are looking for something appetizing.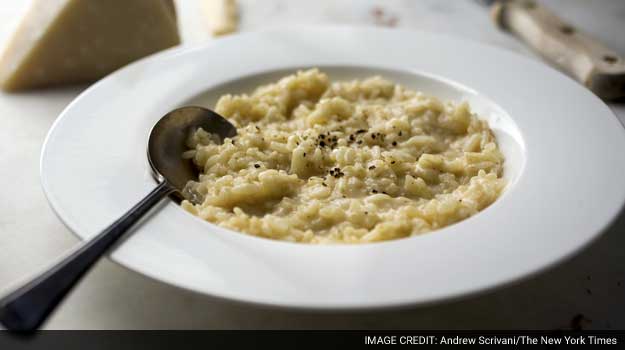 Now that you know how to make these recipes, try them at home and let us know which one was your favourite in the comments section below.