Savour Global Cuisine With Desi Flavour at Haute Saute Cafe
IANS , New Delhi | Updated: July 18, 2013 11:17 IST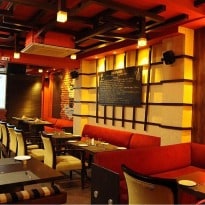 Soothing music, dim lights, mouth-watering delicacies and good company - what else could one ask for after a hectic day at work? Located in Greater Kailash, Haute Saute Cafe, is truly a place to relax and enjoy with friends while gorging on Mexican, Italian and French cuisines.

Also, a visitor just can't keep his or her eyes off the eye-catching interiors. As you enter the cafe, wooden walls beautifully adorned with spectacular artworks and photographs grab your attention.

The lounge is dotted with cosy comfortable couches that perfectly complement the dark ambience. Another highlight of the cafe is the patio bar loaded with variety of expensive wines and champagne. One can also opt for flavoured electric hookahs.

"The cafe opened six months back," Rupin Malhotra, owner of the lounge told IANS. "My cousin and I started it. After completing graduation, both of us entered into real-estate business and that's when we thought of opening a cafe," he added.

The 25-year-old also insisted that from conceptualising theme, menu, interiors, and property - the two entrepreneurs do everything. "I had been to many pubs and lounges across Delhi and NCR. That's how I got the idea of what the young generation wants. Our motto is to make our visitors happy by offering them the best," said Malhotra.

We then shifted our focus to the menu that offers Caldo de pollo, (chicken soup), Cemitas sandwiches, Arancini (meatballs) pizzas, and pastas. "This is a temporary menu. We are in the process of finalising a new one," said Malhotra.
Executive chef Prakash Singh, Hotel Management graduate, informed: "We did extensive research work before incorporating dishes in the menu. But we don't follow classic recipes. We Indianise it, because that's what people like here."

"We use fresh ingredients and purchase on daily basis. The common ingredients include seasonal vegetables and meats," said the chef.

On the platter

We began our meal with aromatic starters Arancini - crispy fried golden meatballs served with creamy bacon sauce. Next in the line was Baked macho nacho - crispy nachos prepared with lots of vegetables and diced chicken.

Baked macho nacho

The appetising starters were nicely cooked and presented well. An icy Cosmopolitan cocktail went well with the starters.

For the main course, the chef served spicy and tangy orange coloured Mexican rice, prepared with lots of onions, tomatoes and capsicum. Light and loaded with flavours, it is a must try.

Arancini - crispy fried golden meatballs

Next in the line was French delicacy - Grilled fish (basa) prepared with lemon and bacon sauce. Crispy, grilled fish that melts in the mouth and forms a perfect meal for those who avoid red meat.

The savouries were not only authentic, but a perfect fusion of varied ingredients that tasted good.

We ended our meal with hot chocolate brownie served with melted chocolate and vanilla ice cream.

Those who like to keep it simple yet stylish and flavourful should visit the eatery.

Basic Details:

Location: Greater Kailash, M Block
Ratings: 9/10
Meal for two: Rs.1,000 (without alcohol)