Chenna Murki Recipe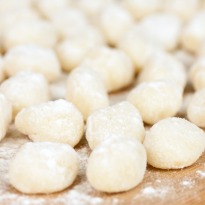 Chenna Murki is a popular Bengali sweet made with chenna (moistened form of paneer) and dipped in sugar syrup.
Ingredients of Chenna Murki
750 gm chenna (also known as chhana in Bengali)
150 gm semolina
10 gm ghee - dough
500 gm ghee - frying
500 gm sugar
2 black cardamom
1 liter milk - reduced milk solids
1 kg sugar
1 liter water
How to Make Chenna Murki
Make a thin sugar syrup.

Knead chenna, suji, and a teaspoon of ghee into a smooth dough.
Fill the chenna into a pastry bag, pipe out whirls.
Heat ghee and fry the whirls into it and brown.