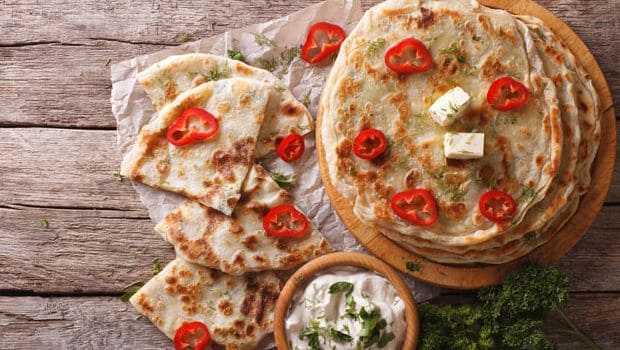 Parathas are quite common in almost all parts of the country, however Delhiites swear by parathas and can literally survive on them. The joy of eating those butter-laden parathas with curd and pickle is above all. Moreover, they taste all the more scrumptious during the chilly months. We're sure all of you would agree to that. Delhi is home to unique parathas that are loaded with unusual fillings. If you're bored of having those regular stuffed parathas and want to surprise your taste buds with something new and exciting then head to these places mentioned below and devour them with a piping hot cup of adrak wali chai. We've caught you drooling!

Sharabi Paratha

It's time to get high on parathas. This place is a paradise for all the paratha lovers out there! They specialise in parathas and offer a lot more than just the regular aloo and gobhi ones. One of their super-specialities is their Sharabi Paratha. Yes, you heard that right! Did you ever think that something of this sort could exist? This unique paratha is stuffed with dry-fruits that are soaked in alcohol overnight which gives it a bitter-sweet taste. The best part of eating this paratha is in its presentation. While it is being served to you, the server will sprinkle rum on top of the paratha and serve it on flames. The paratha gets a smoky flavour because of the burnt rum. Where: Not Just Parathas
Adress: M-84, M Block Market, Greater Kailash (GK) 2, New Delhi
Cost for two: INR 1,100


Fish Parathas

Fish paratha is a healthy version of those calorie-loaded parathas! Not only is it packed with lots of proteins, but is also delicious at the same time. It is made with shredded fish, garlic, ginger and a special masala which adds magic to the dish. This paratha is served hot with lime squeezed on top which adds a nice tangy flavour to it. Pair it with sliced onions and green chutney for an even better culinary experience.

Where: More Than Parathas
Adress: 2nd Floor, Crown Plaza Mall, Sector 15 A, Sector 15, Faridabad
Cost for two: INR 600

Pizza Cheese Paratha

This one's for those little picky eaters out there. Yes, we're talking about kids who drool at the mere mention of a pizza! Pizza Cheese Paratha is a crispy layered paratha which is stuffed using lots of vegetables like capsicum, cabbage and baby corn. It is then coated with a layer of mozzarella cheese. It is served with a dollop of butter on top which makes it more sinful. It's an amazing option to go for if you wish to break the monotony.

Where: Paratha 21
Adress: Food Court, 2nd Floor, Moments Mall, Kirti Nagar, New Delhi
Cost for two: INR 350

Rabri Paratha

Parathe wali gali offers an array of different parathas that you just cannot find anywhere else in the city. From bhindi paratha to kela paratha, this place has it all. You name it, they have it. However, their rabri parathas are best of the entire lot. It is just apt for those who have a sweet tooth. Rabri is mashed and mixed with grated almonds and pistachios to make this ultimate parantha.

Where: Pt. Kanhaiyalal and Durga Prasad Dixit Parathe
Adress: 36, Gali Paranthe Wali, Chandni Chowk, New Delhi
Cost for two: INR 350


Chocolate Paratha

Chocolate paratha is loaded with melted chocolate and can give you a sugar rush in no time! Chocolate paratha is perfect to satisfy those odd hour hunger pangs when you need something to lift your mood.

Where: Paratha King
Adress: C-9/28, Opposite Pillar 401, Sector 7, Near Rohini East Metro Station, Rohini, New Delhi
Cost for two: INR 500

So, the next time you crave for those butter-laden parathas, head to these places and make the most of them.


About Deeksha SarinAn eccentric foodie and a die-hard falooda lover, Deeksha loves riding scooty in search of good street food! A piping hot cup of adrak wali chai can make her day bright and shiny!