Juicing it probably the best way to load up on the nutrients from veggies and fruits, particularly for those who are not too fond of eating greens. Doing so, you can actually trick yourself to believing that you are drinking something delicious when it is also nutritious at the same time. The truth is, just because they are referred to as green juices they needn't be boring and unappetising. As you start exploring different veggies, herbs and fruits, you will realise that there are many ways you can spruce up the flavour of greens to suit your taste buds.
The best part about juicing is that it is ridiculously easy to do. All you need is a good juicer/ blender and a strainer. Tip in veggies and fruits of your choice and you can enjoy a glass in no time. There is no end to the number of ingredients you can explore. Coming to veggies, you can try beets, carrots, tomatoes, gourds, cucumber, cabbage, and the like. If you want to spruce up the flavour, you can add in fruits and herbs like kiwi, apple, mango, pineapple, watermelon, lemon, mint, coriander, kale, etc.
If you are looking for some interesting ideas, we present our 8 best green juice recipes to help you get started -
1. Spinach, Carrot and Apple Juice
Recipe by Meher Mirza
This is a marvellous way to hide the assertive flavours of spinach. What I get is a slightly pulpy drink, but you may wish to strain the juice and separate it from the pulp. This is of course more time consuming and less healthy, as the pulp contains all the fiber.
5 spinach leaves
1 apple
1 carrot
Cinnamon, for flavouring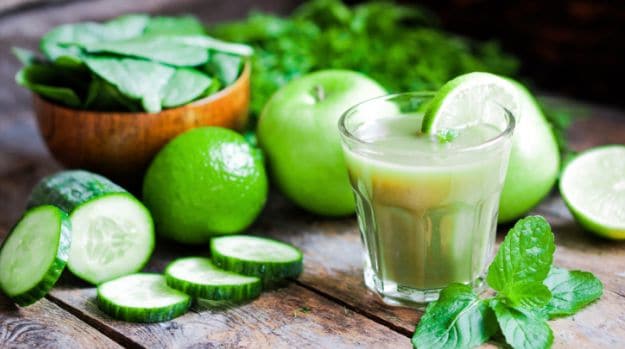 Method:
Roughly chop the spinach, carrot and apple, and toss into the juicer. You may add a little water to thin down the consistency.
Strain or have as is. Add the cinnamon as required.
2. Celery, Sweet Lime and Spinach Juice
Recipe by Meher Mirza
Here is another way of getting your daily dose of dark greens.
5 spinach leaves
1 sweet lime
2 celery stalks
Lime, for flavouring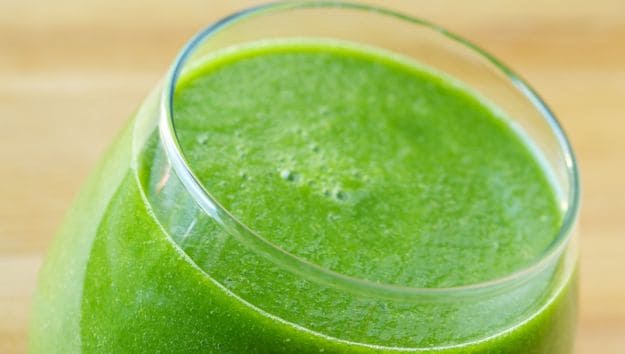 Method:
Roughly chop the sweet lime, spinach and celery. You may wish to remove the fibrous bits of the sweet lime, but again, I think that is where the fibre is.
Toss it all into the juicer and squeeze a bit of lime for the vitamin C boost and extra hit of flavour.
3. Kale and Celery Juice
Recipe by Meher Mirza
Very determined to include greens in my diet, I made a healthy juice using celery, kale, cucumber and parsley. It was all a bit too healthy for me so I added in a few slices of chopped up pineapple, to sweeten the flavours. Also, I substitute kale for spinach, when I do not find it in the market (which is often).
1 celery stalk
5 kale leaves
1 cucumber
2 Tbsp parsley
Few pieces of pineapple (optional)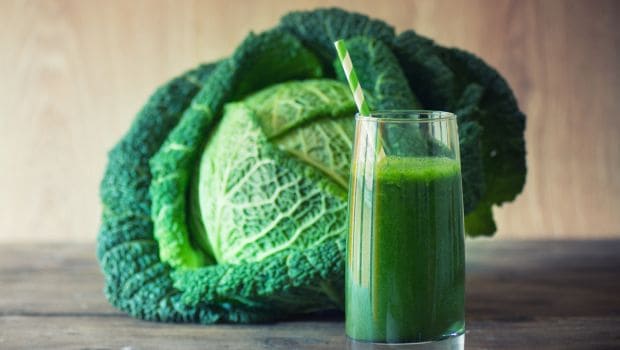 Method: Roughly chop the ingredients and toss them into the juicer. Strain or have as it.
4. Cabbage and Lemon Juice
Recipe by Priya Deesh
It's very simple to make fresh cabbage juice at home. You can also add in other veggies and fruits for more flavours.
1 cabbage
A handful on mint leaves
1 Tbsp honey
A squeeze of lemon

Method: Take a firm cabbage and peel the leaves gently. Wash well with cold water and then pat dry. If there are any brown spots, cut out the damaged area. Place the leaves in a blender and blend well. Strain and add mint leaves, honey and lemon.
5. Cucumber and Kiwi Juice
Recipe by Chef Soumya Goswami, Trident Group of Hotels
A tall glass of refreshing after spa drink with the tanginess of Thai ginger, cucumbers and kiwi. Topped with bean sprouts. For the recipe, click here.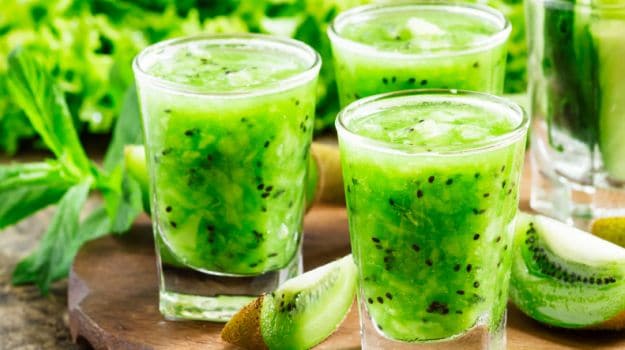 6. Bottle Gourd, Amla and Mint Juice
Recipe by Plavaneeta Borah
Bottle gourd should always be consumed fresh. Try a bit of flesh before blending, it shouldn't taste bitter. If it does, discard it.
1/2 bottle gourd, peeled
3-4 amla, chopped
1 sprig mint leaves
1/2 inch ginger
Rock salt to taste
Method:Blend the bottle gourd along with a little water, amla, ginger, fresh mint leaves and rock salt. Drink immediately.
7. Amla Juice
Recipe by Plavaneeta Borah
The miraculous health benefiting properties of amla are not unknown. To make the juice, you can boil the amla and then deseed and juice, or spend some time deseeding them when raw and then use the flesh for juicing. I prefer the latter.
10-12 amla, deseeded
A squeeze of lime
A sprig of coriander
Black salt to taste
Method:Blend all the ingredients along with a little water and then strain and serve.
8. Cabbage, Cucumber and Mango Juice
Recipe by Meher Mirza
This is a juice with some serious health benefits. All the green stuff is super healthy and (in my opinion) inedible all together, without the edifying taste of my beloved mango.
1/4 cabbage
3 sprigs of parsley
2 spinach leaves
1 cucumber
1 mango
Method: Chop up all the ingredients, and toss into the juicer. Done!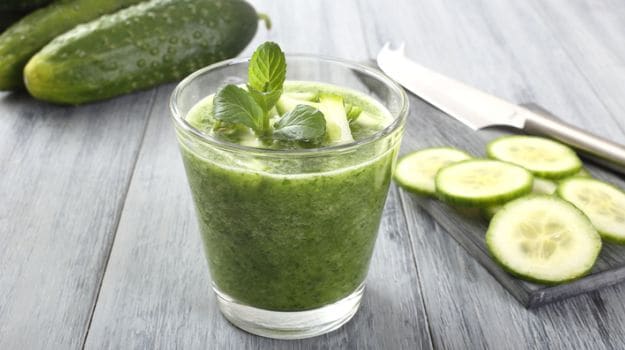 So go on and kickstart your mornings with a healthy dose of these green juices. Play around with different veggies and fruits to come up with interesting combinations to please your taste buds and make the most of nature's goodness.