Baba Ramdev's FMCG company, Patanjali has come under the scanner after the West Bengal Public Health Laboratory in Kolkata found a batch of the Patanjali Amla Juice 'unfit' for consumption. The Canteen Stores Department (CSD) has suspended the sale of the batch of Patanjali Amla Juice and has sent the particular batch of product back to the proprietor. A show cause notice has been served on the company after the juice "failed" the test. The samples in question come with the index no.85417 and batch no. GH1502. The CSD - the retailing entity selling consumer goods to armed forces - is known to send its inventory items for testing at various government-run laboratories across the country.
On being contacted, the official spokesperson of Patanjali, Mr. Tijarawala noted that the Patanjali Amla Juice is a medicinal product and has been registered under the Ministry of AYUSH. Therefore, testing it under the norms regulated for regular consumer products is absolutely wrong. "First of all, only one laboratory has looked into it, that also just one batch. Patanjali Amla Juice is a medicinal product; it should be tested and treated differently as opposed to other consumer products. Clubbing it and testing it under the guidelines issued by the FSSAI for other fruit juices is not the correct approach. Our legal department is taking care of it. We are confident about our product".(Also Read: Drink for Health: 5 Juices You Should Include in Your Regular Diet)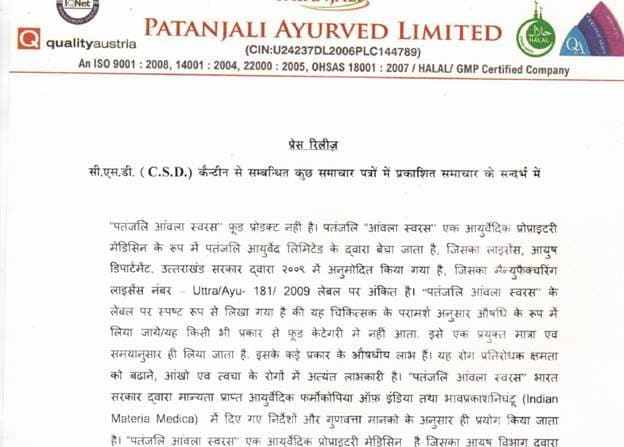 The official statement released by the Patanjali group clearly states that, "Patanjali Amla Juice is not a food product. It is an Ayurvedic proprietary medicine. It has its license under the Department of AYUSH, 2009. It is clearly mentioned on the label of the product that it should be consumed on a recommendation of a medical expert and in regulated quantities. The product follows and adheres to the parameters and guidelines issued by government accredited Ayurvedic Pharmacopoeia of India. All Patanjali products are tested in-house as well in many other government labs across the country".
The Patanjali Amla Juice was one of the first products launched by the group that also sells a range of herbal and Ayurvedic commodities such as Giloy juice, Karela juice, Tulsi Panchang and Aloe Vera Juice along with natural cosmetics and grocery items. Images via Patanjali
Inputs from PTI