Image credit: Istock
I never understood the aversion to fruitcake until someone sent me one of those clunkers that the humorist Russell Baker said he deplored, dating from a Christmas dinner when a small piece he dropped shattered his right foot. The offending object "had been in my grandmother's possession since 1880," he joked in his 1983 essay "Fruitcakes Are Forever." "Fruitcake is the only food durable enough to become a family heirloom."What gives it a bad rap is the reliance, especially by commercial bakeries, on glacéed fruits, those sugar-embalmed specimens that no longer have a whiff of fruit in them. They're fine if you want your holiday dessert to glow like a Christmas tree, but they're all wrong if it's flavor you are after. Good fruitcake is another story, one that evokes Christmas probably more than any other sweet. Imagine capturing the essence of the Sicilian wine grape Zibibbo, Montagnoli figs and Montmorency cherries in one bite: The results can be intoxicating. If the fruit tastes good, well, then, the cake will taste good, too. As the Italians say, "Good with good makes good."
A Taste of Tradition
As it happens, I cut my teeth on English fruitcake. Properly made, it is a lovely affair -- ambrosial, aromatic and dense like its cousin plum pudding, sans suet. Those who have the patience for cutting up all the fruits and lining the pans properly to prevent the batter from sticking will find it well worth doing once a year -- not least because it has a certain romance to it, like English leather, a vintage Rolls or aged Port. It has a patina. I adore its rich and spicy flavors, moist crumb and liquorous cheer. I love the cool glaze that frosts the surface and melts the moment it greets my warm tongue. There is simply nothing more evocative of the winter holidays, especially those I spent living in Scotland when we left our doors open and neighbors stopped by with gifts of homemade baked goods or marmalades and stayed for a tipple and a chat. My landlord, who produced really good British fare by faithfully following the recipes in "Mrs. Beeton's Book of Household Management," made an especially grand version that was covered with a layer of almond paste and, over that, royal icing. The cake was baked in August and left to cure under rum-soaked wraps until the time came to decorate it for Christmas. It recalled for me the flavors of my mother's gâteau d'uva, described in Ada Boni's Italian classic "Il Talismano della Felicità," the only cookbook in our house, as "a famous English fruitcake."
The Key Ingredients
I was compelled to make my mother's cake to see how it would compare to the British original. The recipe she sent me listed dried fruit. But what kind? Living as I did then on paltry wages, I couldn't make a long-distance call to New York for more details -- I didn't even have a phone -- but I was sure she avoided the embalmed sort. I went to a pricey greengrocer on Edinburgh's Princes Street where the Queen's steward was reputed to order fruits when the royals were in residence. There, I spent a week's wages on the best dried fruits I could find. The result? My fruitcake exceeded even my mother's.Fruitcakes fall into three basic categories: dark, light and white, depending upon the proportion of dark sugar or molasses used to sweeten the cake. This version is dark. Old English recipes call for brandy, but I use a combination of vermouth, sherry and brandy. Any of them will do -- as will the Scots' preference, whiskey, or Gran Marnier, as Carole Walter, author of the classic "Great Cakes" (Ballantine Books), suggests.Perhaps the most important ingredient, however, is time. When I asked Walter how long fruitcake should age, she said, "Making fruitcake well before Christmas makes it easier to slice because, as the cake matures, the ingredients hold together better." But don't worry: Susan Purdy, author of the definitive "A Piece of Cake" (Atheneum), offered tips, which you will find in the recipe, for accelerating the process, so you can make the cake in time to shatter your holiday crowd's expectations (rather than their feet).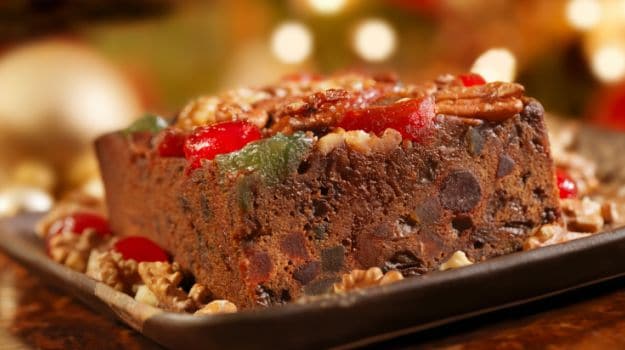 Image credits: Istock
Christmas Fruitcake
You will need two or three days to make this cake. I've listed my favorite combination of dried fruits, but you can substitute others if you like. The important thing is to use high-quality fruit that is still moist and naturally colorful as well as good liquor. Also important are sturdy aluminum pans, never dark metal or glass pans, which absorb too much heat and cause the cake bottom to burn easily. The classic shape is round, but my preference is to use two loaf pans along with muffin tins for extra batter, ensuring that I will have one cake to serve immediately, another under moist wraps when that one runs out, and some muffin-sized mini-cakes, which make lovely gifts. (For a single, round cake, use an angel-food cake form.)Prep time: 2 hours plus 3 days to 2 weeks for curing
Cooking time: 2 hours
Total time: 4 hours plus at least 3 days curing time
Yield: Two large loaves (12 to 15 servings per loaf) plus several muffins, or one tube cake (24 to 30 servings total) plus two baby loaves or several muffins, as directed.Ingredients
For the cake:
1 pound mixed, moist dried fruits, such as pear, peach, apricot and banana
1 pound moist dried figs
7/8 pound golden raisins
1/8 pound dried cherries
1/8 pound candied ginger, chopped
1/2 cup good sweet vermouth, such as Vermouth di Torino, plus more as needed
1/2 cup good medium-dry sherry, such as Oloroso, plus more as needed
1 cup unsalted butter at room temperature, plus extra for greasing pan
2 cups packed dark brown sugar
6 eggs
1/2 cup currant jelly
1/2 cup molasses
Zest and juice of 1 navel orange
Zest and juice of 1 medium lemon
3 cups sifted unbleached all-purpose flour
1 teaspoon baking powder
1/2 teaspoon baking soda
1 teaspoon salt
1 teaspoon ground cinnamon
1 teaspoon ground nutmeg
1/2 teaspoon ground mace
1/2 teaspoon ground cloves
1/4 cup Cognac or good brandy, plus extra for soaking cheesecloth
1/2 pound skinned hazelnuts, lightly toasted and coarsely choppedFor the icing:
2/3 cup sifted confectioner's sugar (plus more if needed for consistency)
2 teaspoons cold water
Zest of 1 orange or lemon plus 1 teaspoon of its juiceSpecial equipment: Two 9-by-5-by-3-inch loaf pans plus several muffin cups, or one 10-by-4-inch tube pan plus two baby loaf pans or several muffin cups; wax paper or baking parchment; paper muffin liners; enough cheesecloth for three layers of wrapping; heavy aluminum foil; airtight cake tins the same dimensions as your cakes.
Directions
For the cake:1. A day or two before baking the cakes, use scissors to cut the mixed dried fruits and figs into very small pieces. In a large ceramic mixing bowl, combine the pieces with the raisins, cherries, ginger, vermouth and sherry. Cover securely with plastic wrap and set out to macerate until the fruits are well softened, using a rubber spatula to mix the ingredients now and then. To accelerate the process, you can cover the bowl and heat it in a microwave, 30 seconds at a time for 2 to 3 minutes total, until the fruit has softened. Add a few tablespoons more vermouth and sherry to moisten if it still seems dry.2. Place a large baking pan filled with water on the floor of your oven and preheat to 300 F.3. Grease your baking pans with butter. Cut wax paper or parchment to line the inside walls of the loaf pans or tube pan completely.4. In a large mixing bowl, cream the butter and sugar together until fluffy. Beat in the eggs one at a time. Blend in the jelly, molasses and orange and lemon zest and juices.5. Sift the flour, baking powder, baking soda, salt and spices into the creamed butter mixture alternately with 1/4 cup Cognac or brandy. Blend in the soaked, marinated fruits and their liquor, followed by the hazelnuts.6. Turn the batter into the baking pans, filling them 2/3 full. Tap pans on the counter firmly to close up any air pockets. Mound the batter somewhat in the center. Bake on the middle oven rack until a tester comes out clean and the cakes begin to come away from the sides of the pan, about 2 hours. (The small loaf pans or cupcakes will cook more quickly, so check them well in advance.) If necessary, cover cakes with foil for the last half hour to prevent the surface from burning.7. Set the pans on cake racks and let them settle for 30 minutes, then ease them out of the pans onto a work surface. Carefully remove the paper. Invert and cool completely, right side up.8. Cut cheesecloth in pieces large enough to wrap each cake in three layers, then soak the pieces thoroughly in brandy or Cognac. To accelerate the curing, poke holes throughout the cakes with thin metal skewers to enable them to soak up the spirits quickly. Wrap the cakes in the cheesecloth well, then wrap them again in several layers of heavy foil and seal tightly. Place each in a heavy-duty plastic bag with a secure seal. Store the loaves in an airtight tin for at least three days or, ideally, up to two weeks or more; they'll keep for as long as six months. Check them periodically and brush with more spirits if they seem dry. Store the cakes in a cool, dry place or, in warmer temperatures, place into a refrigerator.For the icing:1. Whisk together the confectioner's sugar, water and orange or lemon zest plus juice in a small bowl to make a smooth and thick but pourable glaze.2. Lace the glaze over the cake, letting it drip down the sides, and serve. Use a long, serrated bread knife for slicing