Talk about South Indian delicacies and immediately dosa comes to mind; the crispy and healthy Indian pancake is what we call a perfect meal that can be devoured on at any time of the day. And those tasty accompaniments in Sambhar and Coconut chutneys make Dosas even more desirable. One of the most nutritious dosas you could ever ask for is the Adai or Thavala Adai, which is traditionally prepared in Tamil Nadu. A filling delicacy, Adai is prepared using a mix of lentils (dal) and rice and is quite different from how dosa is prepared. Adai recipe is different yet easy and take lesser time as compared to dosa. Generally, it is gorged on with coconut chutney. While this dish has got you wondering, we give you more details plus an Adai recipe to try at home.
What is Adai and how is it made?
Adai is an Indian pancake popularly made in Tamil Nadu, especially in Tanjavur district and is almost similar to dosa. According to Food Blogger Nithya Ravi, "The dish was named Adai because, in olden days, it was made in a bronze vessel with coconut oil. Adai is not exactly dosa, but it is similar to what dosa is. Adai recipe is made using lentils including toor dal, urad dal and a small amount of chana dal and rice. Unlike dosa, Adai does not go through fermentation process and is much thicker than a normal dosa." The use of multiple dals and rice make it a filling dish that can be gorged on during lunchtime or as a snack. Adai is best eaten with coconut chutney or Avial or Aviyal which is a vegetable and coconut stew. Jaggery (gur) mixed with ghee also makes an amazing accompaniment with Adai.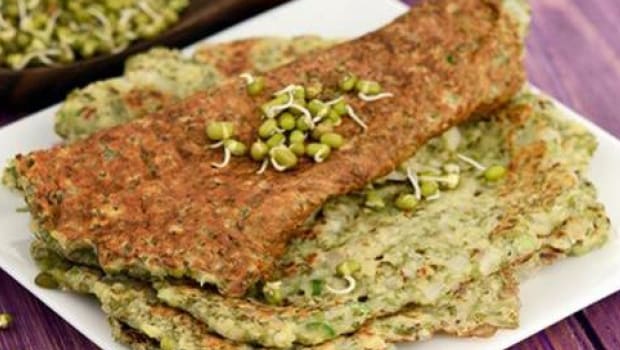 Adai is an Indian pancake popularly made in Tamil Nadu, especially in Tanjavur district

Adai Recipe: How to make this snack at home?
Here's an Adai recipe by Food Blogger Nithya that you would love to prepare at home-

Preparation Time: 2 hours
Cook Time: 10 minutes
Serves: 6
Ingredients:
1/2 cup toor dal
1/2 cup Channa dal
4 tsp urad dal
1/2 cup rice
1/2 cup rice Boiled
2 Onions
Ginger (to taste)
4 - 5 Red Chillies
1/2 tsp asafetida
A pinch turmeric powder
to taste salt
A sprig of curry leaves
Method:
Soak and boil rice and soak in a separate vessel all the dals with red chilles for 2 hours.
Put the dals and red chilles in a blender.
Grind Coarsely.
Place soaked rice in a blender with a little water and grind coarsely.
Mix both mixtures of dal and rice.
Add chopped onions and curry leaves. Also add turmeric powder, salt and asafetida and mix well.
Adai batter is ready for use.
Heat a tawa and apply oil to it. Slowly pour in the batter and shape it as you would make for dosa but thicker. Make a small hole in the center and pour oil to it to get it cooked.
Once brown turn to the other side.
Serve hot with powdered jaggery and butter. OR any pickle. Adai and Aviyal combo is the best.
Chef Tips:
Add green chilles if you want.
Chopped drumstick leaves added to the batter gives a great taste.
You can add shallots, cabbage, chopped capsicum to the batter and make adais too.
The Adai recipe will surely leave you asking for more and we bet you would love to include it in your menu more often!