An American Food Festival Organised by a Retail Chain
IANS , Mumbai | Updated: August 23, 2013 12:24 IST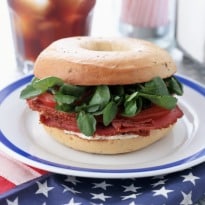 Get ready to gorge on authentic ready-made American food items like sauces, spreads, canned products and easy-to-make snacks at Flavors of America, a food festival organised by a retail chain.

The fest, organised by HyperCITY retail stores in Bangalore, Mumbai and Hyderabad, started Aug 19, and it will continue till Sep 1.

The highlights of festival are authentic sausages and ingredients used in American kitchens. Several other brands like Lady Liberty, American Garden, Oregon and Macademia will also showcase wide range of condiments, spices and other American culinary delights.

"HyperCITY has always been the preferred shopping destination for expatriates, who have made India their home. Globalisation has also made Indians more open to trying out various international cuisines," Darshana Shah, senior vice president, Marketing and Visual Merchandising, HyperCITY, said in a statement.

"We offer a wide variety of high quality international condiments, spices and food products, many of which are only available at our stores. Flavors of America is yet another example of our commitment to bringing you only the best of international gourmet cuisines", added Shah. The festival is part of the US government's broader effort to build greater economic ties with India and create jobs.

Peter Haas, US Consul General said: "I love making pancakes. They make me a favourite with my boys. The products offered are an example of high-quality US foods, which can be eaten on their own, or used as ingredients in traditional or fusion dishes. Imagine making Chicken Korma with American almonds."