With summer around the corner, the rising temperature can leave us feeling sluggish and dehydrated. While bottled sodas are readily available in the market, nothing beats the taste of homemade drinks that are not only refreshing but also have numerous health benefits. Popular summer drinks such as buttermilk, lassi, shikanji, and jaljeera can be easily prepared using ingredients readily available at home. And now, you can add one more delicious drink to your summer list - Nimbu Pudina Sharbat.


Twitter Debate Over Rooh Afza Goes Viral: Love it or Hate it?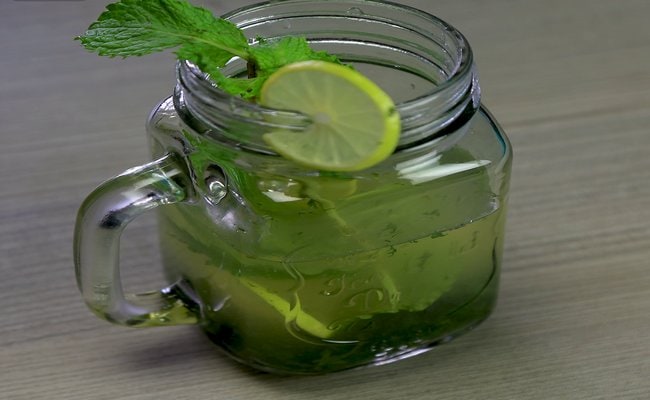 Nimbu Pudina Sharbat is a quick and easy-to-make drink that can be prepared in just a few minutes. You can whip up this refreshing drink using simple ingredients like mint leaves, lemon, rock sugar, and a special blend of spices. The best part is that you can store the concentrate for several days and prepare a glass of sharbat whenever you want. With this one concentrate, you can also make three different flavoured drinks.
Too Much Spice? Reduce Spiciness In Food With These 6 Easy Tips


Chef Parul, the famous YouTuber, shared the recipe of Nimbu Pudina Sharbat on her channel Cook with Parul. Here is how you can make this delicious drink at home:


Ingredients:
1 bowl of pudina leaves

2 cups of rock sugar

1 cup of water

Half cup of lemon juice

2 tsp of black salt

1/2 tsp of white salt

1/2 of cumin powder

1/2 of black pepper

1/2 tsp of chaat masala

Ice cubes
Instructions:
Take a bowl of pudina leaves and add ice cubes to it. Blend until you get a smooth paste.
In a pan, add rock sugar and water. Cook until the sugar dissolves completely.
Add the mint paste to the pan and cook while stirring continuously.
Cook until the mixture reaches the perfect consistency, then remove from heat and let it cool.
In a small bowl, mix black salt, white salt, cumin powder, black pepper, and chaat masala.
Once the mint mixture has cooled down, add lemon juice and the spice blend to it. Mix well.
You can store the concentrate in a bottle and use it to prepare the sharbat whenever you want.
Check out the full recipe video of Nimbu Pudina Sharbat on Chef Parul's YouTube channel - Cook with Parul. Stay refreshed this summer with this delicious homemade drink!