It would not be an exaggeration to say that Indians love Italian food. Rich, cheesy and simply irresistible, Italian cuisine is surprisingly one of the global cuisines that Indians are surely obsessed with. Besides the ubiquity of ever-popular pizza, pasta and risotto, this cuisine also has a distinctive set of other delicious recipes as well and one such recipe is lasagna. We are sure you all might have tried this delectable Italian dish. With rich layers of cheese, exotic flavours, veggies and seasonings oozing between handmade fresh flat pasta, this dish spells indulgence in every bite. And the best part is, you can make lasagna in many different ways, some people use pasta, some people like to have it with veggies and many other ways- unique to each one's preferences.


Also Read: 12 Best Italian Food Recipes | Easy Italian Recipes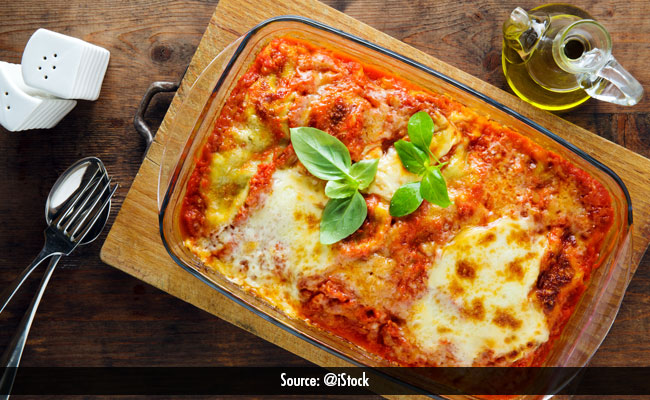 In this article, we are going to introduce you to a super quick and easy recipe of lasagna and that is Bread Lasagna. Wondering how breads can be used in making lasagna? Well, let us tell you- this recipe is all you need as a quick fix for your Italian food cravings. Not just that! All you need is just a handful of ingredients available in the pantry and it's done. So, without any further ado, let's learn how to make it.
How to make Bread Lasagna at home l Bread Lasagna Recipe:
To begin with, the recipe, heat butter in a pan, add maida, mix it well on low-medium flame and let it cook. Now add this mixture into boiling milk and boil until the mixture gets thick, smooth and consistent. Keep whisking for required consistency.


Now, take another pan, add oil, black pepper, bay leaf and chopped garlic. Let them splutter. Once done, add chopped onion, tomatoes followed by salt, red chilli powder, along with other Italian seasonings. Once done, blend it in a blender. After that, take 3-4 slices of bread, roll them with the help of a roller. Keep it aside. Meanwhile, stir fry some veggies,


The last step is, take a large container, add prepared red sauce, add prepared white sauce then place in some breads and repeat spreading sauces on the top of the breads. Once done, add veggies followed by a generous amount of cheese. After that, spread both the sauces again, place it inside the oven at 180 degrees for about 5-6 minutes and voila, your Italian delicacy is ready to relish!


Note: You can also use already prepared red sauce and white sauce available in the market.


Click here for the full recipe of bread lasagne.


Now, you know the recipe of bread lasagne; try it at home and let us know how you liked it in the comment section below. Bon Appetit!