Britain may criminalize drinking alcohol during pregnancy
IANS , London | Updated: May 22, 2014 18:01 IST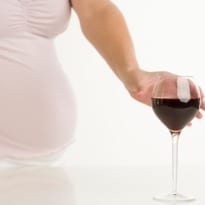 In a landmark test case to be heard in Britain's Court of Appeal, excessive alcohol drinking during pregnancy may be declared a criminal offence, according to a media report.

During the hearing, it will be argued that a six-year-old girl is the victim of a crime because she suffered brain damage when she was exposed to alcohol in the womb - a risk that her mother was aware of, reported the media report.

The case comes amid a 50 per cent rise in Foetal Alcohol Syndrome (FAS) in last three years, with 313 damaged from exposure to alcohol in the womb in 2012-2013. According to the Department of Health statistics, one in 100 babies is now born with alcohol-related disorders.

Consultant psychiatrist Raja Mukherjee warned pregnant women do not have to binge-drink to be at risk. "If you avoid it, that's the safest route." "That doesn't mean that people who've drunk a little bit have harmed their child, most people won't have done, but if you want to guarantee safety and you want to guarantee no risk, then no alcohol is the best way forward," he told Sky News.

Sue Brett, the adoptive mother of a 15-year-old Glenn who was born with FAS after his mother drank excessively, said: "It needs to be clear from the start that you can't drink." After Glenn was exposed to alcohol in his mother's womb, he has physical disabilities affecting his vision and movement, and the mental age of a four-year-old.