The alluring view of 'thick and squishy dough with rich green coriander leaves embedded in it, transforming into a crisp stuffed naan inside a clay oven (tandoor) and then drenched in melting butter and profusely crushed in crisp bites' is enough to cajole you into ordering this exotic North Indian delicacy, known as the Chur-Chur Naan, even if you're not hungry. The best place to try the Chur Chur Naan, which is originally known to belong to Amritsar, is this small but immensely popular roadside shop at Paharganj. There are lot of shops in Paharganj that serve naan but 'Chawla De Mashoor Amritsari Special Chur-Chur De Naan' is where one would get the best Chur-Chur Naans in the entire area. Their Chur-Chur Naan Thali is very popular. They offer six different varieties of chur chur naans at a price of Rs. 100. These range from Stuffed Aloo Chur-Chur Naan Thali, Special Aloo Pyaaz Chur-Chur Naan Thali, Stuffed Gobhi Chur-Chur Naan Thali and Stuffed Paneer Chur-Chur Naan Thali to Stuffed Missi Chur-Chur Naan Thali and the Special Mix Chur-Chur Naan Thali.A typical thali comprises two generously stuffed chur-chur naans with toothsome chole ki sabzi, paneer, wholesome dal mix and refreshing boondi raita and salad with pudina chutney.
"It was way back in the year 1986, when my father, Late Sh. Baljeet Chand Chawla, established this business. I also used to serve with him like my son, Ajay Chawla does today," informs 65-year-old Manohar Chawla - the owner of the shop. Manohar's grandfather, Late Sh. Maan Singh used to have a business of selling milk and
barfi
, back then. Before garnering praise for their
Chur-Chur Naans
and even before setting up the business of selling
Naans
, Baljeet Chand and his son Manohar had already established their name in the Paharganj area owing to their previous successful businesses of selling different food items like Bhalle Papdi, Aloo Ki Tikki and
Gulab Jamun
which they used to sell in a humble push cart (redi). But as time passed by, they ventured into mastering the art of preparing
chur chur naans.

(Also read: Naan Pizza: The Indian Twist to the Most Popular Snack)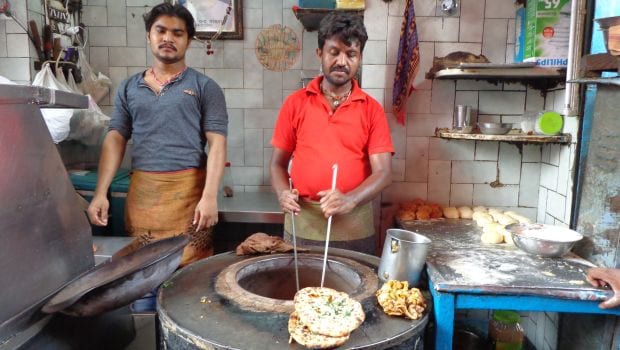 While in Amritsar, Baljeet and Manohar saw these naans being made and got inspired to make and sell them in Delhi and now they have been in business for almost 31 years. Manohar shares, "My grandfather, my father and I, we all used to first learn how to make a particular dish and then set up a business of selling it." "Our aim has always been to satisfy our customers. I always sit at the billing and serving counter and operate them myself as I personally want to see what is being served to my customers by my workers," he adds. It isn't the inflow of the money that keeps Manohar motivated; it is his group of customers that keep his spirit alive. He shares some beautiful moments with us that he has had with his customers, "It happens a lot that people come to our shop and say that we were just passing by this area so we felt like having Chur-Chur Naan from our shop because they have really heard a lot of good things about it. This makes me very happy. Many other shops have opened in the nearby areas that serve chur chur naan but my customers still praise me a lot for the quality of food that we serve. In fact, our regular customers often get angry with us the day we close our shop without giving any prior notice. This is my real reward; I feel this is what I have earned over the years."He also tells us, " I work along with few workers that I've employed. The credit also goes to my workers as without them I wouldn't have made it this far or I wouldn't have ever bagged so much of love and appreciation from my customers."
(Also see: The 163-Year-Old Square Naan of Hyderabad)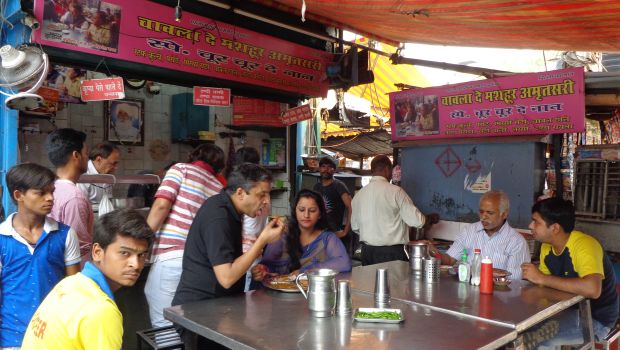 So, if you ever happen to be in this area or are in the mood to try something new and absolutely delicious, here's where you should be. The crunchy chur chur naans prepared hot in front of you
will totally impress your taste buds. Timings: 12 Noon to 4 PM, 7 PM to 11 PM
Address: 8955, DB Gupta Road, Multani Dhanda, Paharganj, New Delhi, Delhi 110055
Cost: ₹300 for two people (approx.)
Contact: +91 9540023223, 011 20023717, +91 98719 81988
Disclaimer: The opinions expressed within this article are the personal opinions of the author. NDTV is not responsible for the accuracy, completeness, suitability, or validity of any information on this article. All information is provided on an as-is basis. The information, facts or opinions appearing in the article do not reflect the views of NDTV and NDTV does not assume any responsibility or liability for the same.