Domino's to Open 100 New Stores in Smaller Cities
IANS , New Delhi | Updated: August 27, 2013 12:34 IST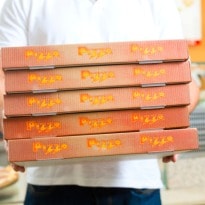 Food and beverages (F&B) service provider Domino's Pizza is aiming to open 100 new stores in India by March next year to keep pace with high demand in smaller cities and towns.

"We see tremendous growth potential in tier-II and III cities, where we find many aspirational (brand) customers. We will be entering in more such cities in the time to come," Shyam S. Bhartia, chairman, Jubilant FoodWorks told IANS.

"We foresee very high demand in this (pizza) segment. We are planning to open more stores and offer more offerings to the customers," Bhartia said.

The company opened the 600th store in Vasant Kunj in the capital to introduce the international "Pizza Theatre" concept that features an open display kitchen and restaurant layout.

Bhartia's Jubilant FoodWorks is the master franchisee of Domino's Pizza in India, and has recently opened shop in places like Baramati and Cuttack.

The company has plans to open a total of 125 new stores in the current fiscal.

"Currently we are the market leaders in this segment with 67 percent market share. We plan to open 125 stores in this fiscal and will reach 700 store mark by March, 2014," said Ajay Kaul, chief executive, Jubilant FoodWorks.

The company has planned to invest Rs.250 crore in the current fiscal on store expansion, as well as, opening of 18 Dunkin' Donuts outlets and constructing three new factories. With more store-openings, the Indian operations of Domino's Pizza have become the second largest market for the company after the US and the fastest growing around the world.

"Domino's India operations are the fastest growing in the world and is the second largest single country operations outside of US," said Steven Pizziol, Vice President Asia Pacific, Domino's Pizza.