We are always on a hunt for quick recipes that satiate our hunger pangs! One such dish is classic sandwich. By following a few quick steps, we can whip up a delicious sandwich that we all enjoy having for breakfast or during evening time. Place cheese in between bread and toast it in butter and we have the ultimate guilty pressure – the grilled cheese sandwich. Fill the sandwich with aloo masala and we have a desi breakfast on our plate. The sandwich is so versatile that it can be had for breakfast, lunch and dinner. We have found one delicious sandwich recipe that you can eat for breakfast or have as a snack, it is an egg mayo sandwich.


Also Read: 13 Best Sandwich Recipes | Easy Sandwich Recipes


With a few simple steps, you can easily whip up this protein-rich sandwich. The egg mayo sandwich is super easy to make. You make a filling of boiled eggs, mayonnaise and seasoning and place inside toasted bread. The recipe uses boiled eggs as its key ingredients, but you can use scrambled eggs as well. Try to use multi-grain bread instead of white bread, the multi-grain bread gives the sandwich a more delicious flavour.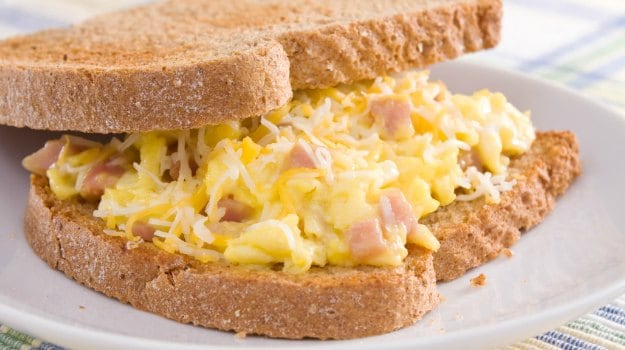 How To Make Egg Mayo Sandwich | Easy Sandwich Recipe:
Making an egg mayo sandwich is easy. All you need is eggs, mayonnaise, seasoning and bread! You can use store-bought mayonnaise, or if you want a more vibrant flavour, use homemade mayonnaise. Find the recipe for mayonnaise here. Cut the boiled eggs into small pieces. Place them in a mixing bowl. Add the mayonnaise, mustard and seasoning, mix it well. Spread the filling on a toasted slice of bread and close the sandwich with another slice. The sandwich is ready!


Click here for the step-by-step recipe of Egg Mayo Sandwich.


Serve these delicious sandwiches for breakfast or a quick snack! Sounds easy, right?! Try out this recipe and do tell us in the comments section how you liked it.