Finnair to Offer Vegetarian Meals on Flights
IANS , New Delhi | Updated: October 08, 2012 13:38 IST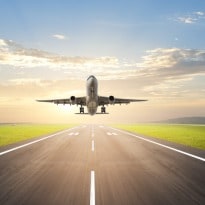 In a bid to broaden services and meet passenger dietary needs, Nordic carrier Finnair has said it plans to offer vegetarian meals in economy class from November.

According to the airline, the new in-flight vegetarian menu is going to be available on all intercontinental flights where meal options are provided and can also be pre-ordered while booking.

The plans for introducing a vegetarian menu are based on suggestions given to Finnair's quality hunters, who were chosen to improve passenger services.

"One thing also quite obvious was how popular curries were," said airline quality hunter Sanjoo Malhotra.

"And why not... they are tasty, popular in different parts of the world and very feasible too," Malhotra added.
Malhotra further said passengers have also suggested food concepts like "meat-free Monday", among others. In fact, they were instrumental in suggesting a range of dishes from chickpea and tomato salad with basil to grilled vegetarian pizza.

The airline said it was readying a line-up of scrumptious dishes as vegetarian options that lend themselves to easy in-flight preparation and service.