Foodie Revolution Brings Bacon Ice Cream to Moscow
AFP | Updated: August 09, 2012 11:59 IST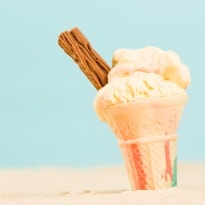 Whether it's learning to make bacon ice cream, sampling lamb from the Kalmyk steppes, or rustling up paella a la russe, Muscovites have embraced all things foodie in a gastronomic revolution.

Hard to find just a few years ago as Russia remained burdened by the Soviet Union's gastronomic legacy, medium-priced restaurants that use locally sourced, seasonal ingredients have now become the hot new trend.

Magazines aimed at the upwardly mobile publish cooking columns, and the middle-classes are discovering the joys of the dinner party.

The monthly Afisha Food magazine has spearheaded the trend, and last weekend it packed crowds into a central Moscow park for a food festival that was the first of its kind in Russia.

Around 10,000 people flocked to the historic riverside Gorky Park, not dissuaded by a 600 ruble ($21) ticket price, as 40 restaurants presented special menus, chefs held master-classes and farmers sold home-grown produce.

Young couples with children in pushchairs and groups of friends happily queued for two hours to buy pork cooked sous-vide (sealed in a vacuum) and charcoal smoked, or chicken ragout with cherries and coriander.

"There has been an evolution in the way the middle classes see food. After 70 years in a gastronomic ghetto, we all tried out exotic dishes. And now we are looking for a happy medium," said Alexei Zimin, the editor of Afisha Food, a food columnist for Kommersant daily and the co-owner of Ragout restaurant. "Cooking has become a big topic in the media. A huge amount of information has appeared on the subject," he told AFP.

On stage, in front of several hundred spectators, he reveals some tricks of the trade: for example, prawns with rosemary need to be sauted three times to ensure they are cooked through and juicy.