If the cuisine of a nation can be used to trace its cultural and political revolutions, Lebanon would be an ideal example to prove the point. The country, which was once referred to as the Switzerland of the East, has undergone enough and more invasions, and economical upheavals, yet today is a melting pot of cultures. The 400-hundred year Ottoman rule, gave the nation
olive oil
, baklava, the stuffed vegetables,
nuts
, and the labneh (
home-made strained yoghurt
).When
Turkey
lost in World War I, Lebanon came under the French, which is what brought in all the
cheeses
, sauces, and pastries into the cuisine. And let's not forget the Lebanese people, who travelled to other parts of the world to work. They would often bring back new ingredients to their home country, which over a period of time became part of Lebanese cuisine. And then there were the Arab nomads, who made their presence felt even before the Turks. These nomadic tribes, who would pass through Lebanon, brought in dates, rice, etc.Considered to be one of the healthiest cuisines in the world,
Lebanese food
is distinguished by its simple appearance, and yet complex processes, and freshness of ingredients. It's said that the Lebanese people rarely eat leftovers (a concept similar to our 'Saatvik'). Some of the most commonly used ingredients in the cuisine are starches, grains, vegetables, fresh fish, seafood, chicken, herbs such as the za'atar, and lamb (thanks to the Ottoman influence), lots of olives and olive oil, bread, cheeses, dried fruits, nuts, and so on. In fact, if you go to a Middle Eastern restaurant, and order a mezze platter, which incidentally can go up to 30 different kinds of dishes, you will find the more common flavours of the cuisine in front of you – some of them served hot, and some served cold.Let's take a look at some of the most popular dishes from the Lebanese cuisine.
Fattoush and Tabbouleh:
These are two of the most favoured salads from the cuisine. The
tabbouleh
is a garden of greens what with parsley, mint, tomatoes, and scallions at the heart of this salad. Its crunchy texture comes from fine bulgur wheat, and the salad is seasoned with garlic, lemon, salt, and olive oil. The
fattoush
on the other hand, requires parsley, tomatoes (cherry, or normal), romaine, onions, cucumber, radish, green pepper, and cucumber. This one is also seasoned with fresh garlic, lemon juice, olive oil, and salt. What adds the crunch to this salad is crispy toasted
pita bread
, which is crushed atop the salad after it has been tossed.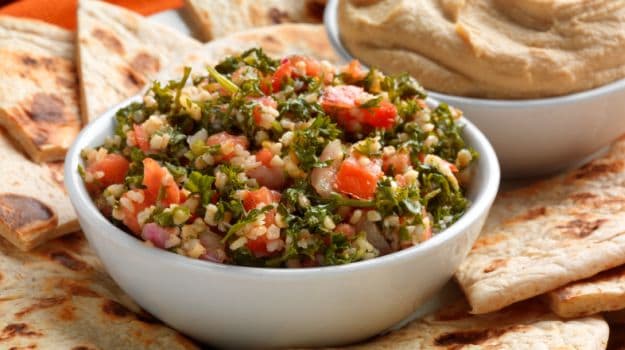 Dips:
A traditional mezze is incomplete without the dips. The
hummus
, a chickpea dip drizzled with olive oil, is perhaps the most common across Middle Eastern food. But then there's the
baba ghanoush/ghanouj
, which is made with a paste of roasted brinjals,
Tahini
paste, garlic, and some vinegar, and can be served with pickled vegetables, and pita bread. The
khiyar bi laban
, a subtle curd-based dip is made with grated, or finely chopped cucumber, which is mixed with watered down plain curd, and flavoured with garlic, finely chopped mint, salt, and even some lemon juice if necessary. The
toum
, often eaten with kebabs, is a simple dip made with garlic, oil, lemon, and salt. You'd have come across this one in the form of 'aioli' in Spanish cuisine.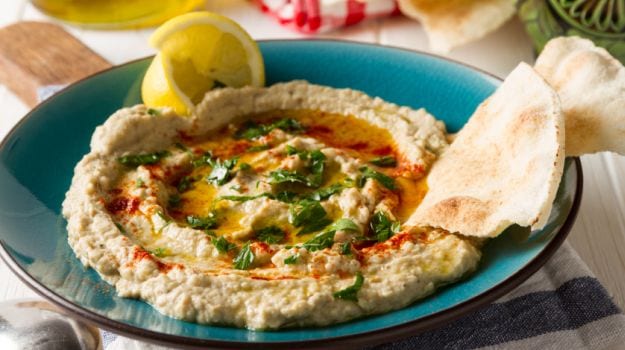 Kebabs:
The
shish taouk
is one of the most popular kebabs from Lebanese cuisine. Boneless pieces of chicken breast cut into chunks are marinated in lemon juice, crushed garlic, plain curd, olive oil,
apple cider vinegar,
ginger (powder or even paste)
,
white pepper
, freshly ground thyme, paprika, tomato paste, and salt. It takes about three to four hours to marinate the dish, and the skewered meat then has to be grilled. It goes really well with the Lebanese garlic dip.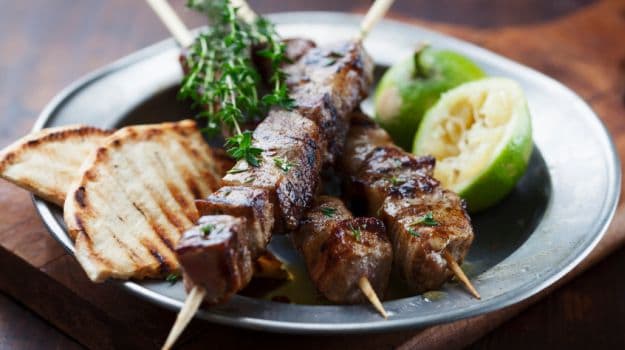 Appetizers
: The
kibbeh
, is a mix of onions, ground meat (beef, lamb, or goat), which is then spiced with cinnamon, nutmeg, cloves, and allspice. The mix, which is also flavoured with pine nuts and sautéed onions, is then coated with bulgur wheat. It can be deep fried, or baked. There are plenty of variations of the kibbeh – some are put in stews, cooked in stock, or even eaten raw. The
dolma
, of Turkish origin, is yet another starter you may find as part of a mezze platter. It might be an acquired taste, but rarely takes long to get used to. In this one, grape vine leaves are stuffed with parsley, mint, green onions, rice chickpea, chopped tomatoes, and seasoned with olive oil, salt, and lemon juice, rolled up, and then steamed. One can also make a non-vegetarian version with ground meat. And then there's the
sambusak
of Arabic origin. It's quite similar to the
Indian samosa
, but slightly flatter in shape. The sambusak is usually stuffed with ground meat and deep-fried.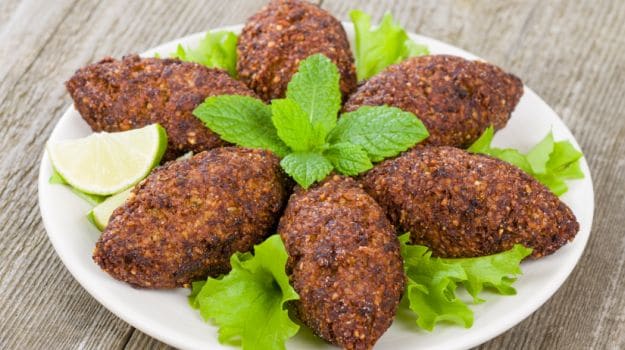 Mains:
The
yakhneh
, a traditional Lebanese stew, is a must-try for those who love the cuisine. The most popular one is made with potatoes and beef, and is eaten with rice. For vegetarians, the
green bean stew
is a delightful option too, as is the one made with lady's finger. However, for most roasts, grills, etc, the
flatbread
or the
pita
is commonly served.
Desserts:
The
baklava
is probably the most popular dessert across all Middle Eastern cuisines. This sweet, layered pastry, stuffed with dried fruits is an absolute treat for sure. But there are few hidden gems in this cuisine when it comes to pampering your sweet tooth. Take for example the
Ashta
, which is the traditional Lebanese clotted cream flavoured with rose water and orange blossom water. It can be served with fresh fruits (much like strawberries and cream) or stuffed inside desserts such as the
kunafa
. The Lebanese
rice pudding
or the
Riz b Haleeb
, as it's called in Lebanon, is perhaps something closer to our taste buds. It's basically rice pudding, or kheer, but the Lebanese like to flavour it with orange blossom water to make it distinct. One of the other sweets, which is more commonly available, is the
date fudge roll
made with dates that have been turned to paste, and then mixed with some butter, stuffed with
walnuts
, almonds, or pistachio, rolled onto coconut flakes, and served. It's packed with goodness, and lots of natural sugars. Plus there's
butter,
so go easy on this one!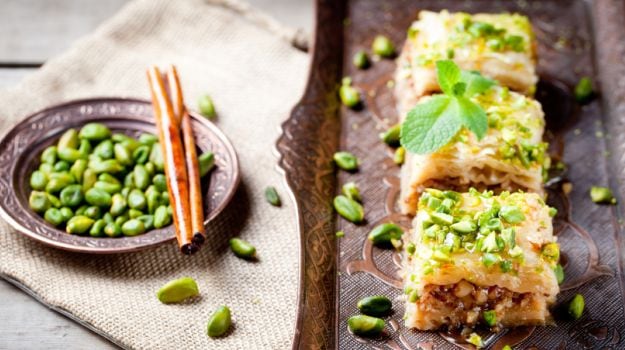 About the author:Priyadarshini Nandy would love to call herself the writer who "divides her time between London and Prague", but being able to call both Bengaluru and Kolkata her home is equally gratifying. As an independent journalist, she writes about food, theatre, travel, and more food, for various publications - new age and old school.Disclaimer:The opinions expressed within this article are the personal opinions of the author. NDTV is not responsible for the accuracy, completeness, suitability, or validity of any information on this article. All information is provided on an as-is basis. The information, facts or opinions appearing in the article do not reflect the views of NDTV and NDTV does not assume any responsibility or liability for the same.