It is
Mahashivratri
today and Hindus around the world are leaving no stone unturned to please their beloved Lord Shiva with their abundant offerings, prayers and devotion.
Mahashivratri
is one of the most significant Hindu festivals and celebrated with much fervour and enthusiasm across the country.
Mahashivratri
falls in the Hindu luni-solar month of
Phagun
.
Mahashivratri
literally translates to the 'Great night of Shiva'. Some devotees wake up all night and chant prayers and songs in honour of Lord Shiva. Some of them also observe the ritualistic
Shivratri vrat
or fast to please their beloved deity with their devotion.
On the day of Shivratri, devotees wake up early, take a bath and go to the temple with several offerings. They perform the ritualistic Shiva abhishekam with milk, honey, ghee, curd, and sandalwood paste while chanting 'Om Namaha Shivay'. They also offer fruits like ber (jujube), bel leaves and flowers are also offered to the Shiva Lingam.(Also Read: Happy Mahashivratri 2018: 5 Foods You Can Have While Observing Mahashivratri Vrat)
Bel patta or Bilwa leaves plays an important role in the worship of Lord Shiva's. The sacred trifoliate leaf is placed on the top of Linga while chanting prayers. Ever wondered why the leaf holds such a special place in the puja rituals? Lets find out.

Significance of offering Bel or Bilwa leaf in Mahashivratri
Bel tree or the wood apple tree is considered to be one of the most significant trees according to Hindu belief. Each part of the tree is considered sacred in Ayurveda too. The shape of the leaf especially, has a very integral role in Hindu belief. The trifoliate shape of the leaf is symbolic of the Hindu Trinity of Devas namely Brahma Vishnu and Shiva. Some scriptures also find it symbolic of three eyes of Shiva or the three spokes of Trishul, Lord Shiva's weapon.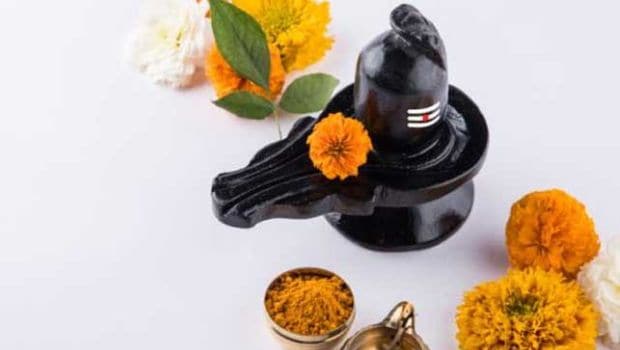 Mahashivratri 2018: ShivlingBel leaf is said to be Lord Shiva's favourite. It is commonly believed that the Bel leaves have a cooling effect, which is why it is offered to the deity on the occasion of Shivratri or any form of Lord Shiva worship. It is said that the one who offers a trifoliate bel patta to the Shivlinga with devotion is blessed with whatever he/she desires.
There are several ancient legends and scriptures stating the importance of Bel leaves in Shiva worship. According to one legend, Shiva should be worshipped with a daylong fast and the eating of bel leaves at night. A popular legend mentioned in one of the scriptures state that bel grew from Parvati's perspiration, which fell to the ground while she performed penance. It is also said that various incarnations of Goddess Parvati reside in each part of Bel tree.
One of the most popular tale recited during the great Sivaratri vigil also has bel leaf playing a key role. As per the legend, on one dreary night, a Lord Shiva devotee lost his way in the forest while hunting. Scouting his way back he heard a tiger's growl who was also fast approaching in his direction. To save his life, he tried hiding on the top of a bel tree. He kept plucking and dropping bel leaves while chanting the name of Lord Shiva. Next morning when he was climbing down he realized a that there was a Shiva linga right beneath the tree and that he had accidentally dropped several bel leaves on top of it. Lord Shiva in return protected him from the tiger, pleased by his nightlong devotion and prayers.
Here's wishing you all Happy Mahashivratri 2018!
About Sushmita SenguptaSharing a strong penchant for food, Sushmita loves all things good, cheesy and greasy. Her other favourite pastime activities other than discussing food includes, reading, watching movies and binge-watching TV shows.