The winter months are almost here. They are one of favourites simply because they bring along some delicious gastronomic adventures. From stocking up on seasonal veggies to sipping piping hot cups of soup - there isn't a better time to relish these flavourful and comforting meals than winter, is there? Speaking of winter food, chicken soup is something that never fails to comfort us during those harsh winter days. However, if you're bored of the regular chicken soup and want to try something different, you're at the right place. Here we bring you a delicious chicken noodle soup recipe that is a must-try during the winter season.


Also read: Weight Loss: 5 Chicken Soups You Can Try This Winter Season To Shed Some Kilos


This soup is made with noodles simmered in chicken broth, vegetables, and flavourful spices. The soul-soothing taste of this soup makes it a hit among both kids and adults. You can make this chicken noodle soup for a wholesome dinner meal. Wondering how to make it? Check out the recipe below: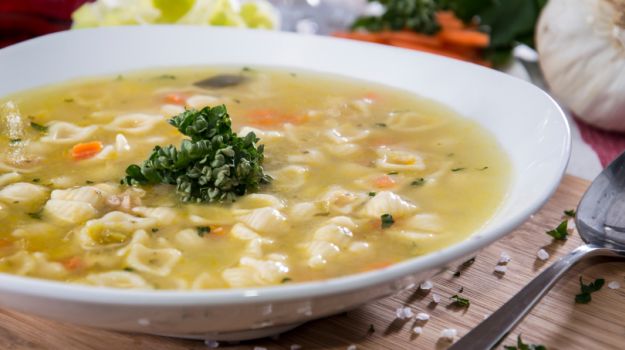 Chicken Noodle Soup Recipe: How To Make Chicken Noodle Soup
First, heat some oil in a pan. Add sliced onions, bay leaf, chopped ginger and garlic. Saute well. Add carrots, mushrooms, beans, boneless chicken pieces, black pepper powder, turmeric powder and salt. Mix well. Add the chicken broth, water and noodles. Allow it to boil for 6-7 minutes. Chicken noodle soup is ready!


Also read: Beetroot Chicken Soup, Chicken Hot & Sour Soup And More: 7 Protein-Packed Chicken Soups For Winter


For the complete recipe of chicken noodle soup, watch the video in the header above.


So, what are you waiting for? Make this delicious soup at home and let us know how you liked it in the comments below.
About Vaishali KapilaVaishali finds comfort in eating parathas and rajma chawal but is equally enthusiastic about exploring different cuisines. When she's not eating or baking, you can often find her curled up on the couch watching her favourite TV show - FRIENDS.