Indian Chefs Win Singapore Cooking Competition
IANS , Chennai | Updated: August 08, 2013 12:09 IST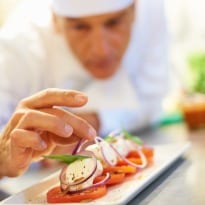 Cooking on a charcoal mud stove with two mud pots, two Indian chefs won the gold medal at an International Chef Competition held in Singapore recently.

"We were stumped when asked to cook in the charcoal mud stove. All these years we were cooking on gas and electric stoves and ovens. But it ended well," N. Sheetharaman Prasaad, corporate executive chef of GRT Hotels & Resorts, told reporters here Wednesday.

The competition, Tradition and Innovations, was organised under the auspices of Singapore Tourism Board, Indian Restaurant Association of Singapore and Indian Chef's Culinary Association as part of a 10-day food festival held at Little India, Singapore.

Six teams from five Asian countries - India, Singapore, Malaysia, Thailand and Indonesia - participated in the contest.

The other Indian chef's team was from Mumbai's Hotel Sahara.

Prasaad and his team-mate U. Ganesh won in preparing a three-course meal with ingredients bought from the local market with 150 Singapore dollars and cooking with at least three out of five given ingredients with charcoal stove and mud pots.

"We were asked to make four portions. The dishes should be of a certain weight. The judges also looked at the wastage while giving the marks," he said.

In the first event Prasaad and Ganesh dished out a three-course meal with the starter being a green gram smoothie with cream enriched chicken supreme and lamb mince kebab with Indian bread and onion salad. "The main course was shrimp coiled in fish and poached in coconut milk stew with steamed red rice hoppers and mixed vegetable poriyal," Prasaad said.

In the mystery challenge segment, the team was given a basket of chicken, lotus stems, drumsticks, jackfruit and dates. They had to use at least three of these and cook on a charcoal stove and mud pot.

"Initially we had problems in lighting the charcoal. It was the first time I lit charcoal. I finally learnt that it has to be lit from the top and not from the bottom," Prasaad told IANS.

"The taste of a dish depends on the temperature at which it is cooked. While the temperature can be adjusted in modern stoves, it is not possible to do so in charcoal or wood stoves," Mohamed Haneef, executive chef at GRT Grand told IANS.

The jury comprised experts of World Association of Chefs Societies like Chef Rick Stephen-Asia and pacific continental Director of WACS, Chef Edmund Toh, assistant vice president, Resorts World Sentosa Hotels and Casino and Chef Mahendran, chef d' cuisine-Indian Kitchen SATS, Singapore.