When we speak of nuts and seeds, most of us would picture a bowl full of crunchiness tossed into a salad or topped on a rich gravy or dessert. How often have you considered making a full-fledged meal out of those nutritious seeds or nuts? Almonds, pistachios and cashews are talked about every now and then but there's a nut that is mostly unheard of - chironji or charoli seeds.


Primarily a festive nut, chironji can be mostly found in Indian desserts such as kheer or halwas made during special occasions and festivals. But chironji's culinary uses go beyond just sweet treats. Charoli seeds are often roasted to bring about a unique nutty flavour to many delicacies. You'll be surprised to find the crunch of chironji in many rich Indian gravies. And a wholesome Indian meal is incomplete without a bowl of comforting dal. And did you know you can also make chirongi ki dal?! We've got an interesting recipe of chironji ki dal that can be your quick and easy go-to lunch meal.


(Also Read: 6 Delicious Dals From Across India That You Can Prepare During Lockdown)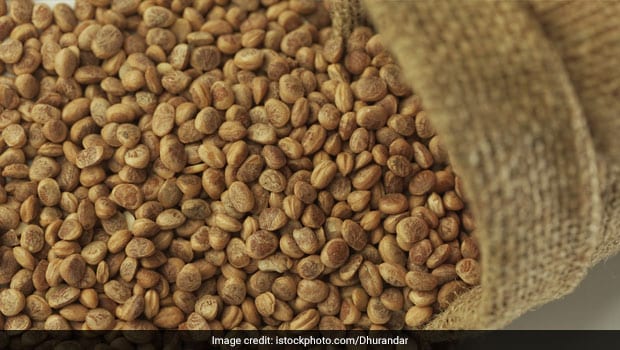 In the recipe, soaked chironji seeds are blended and made into a paste, sautéed in ghee with cumin, cardamoms, ginger and peppercorns. Addition of yogurt gives a rich and creamy texture to the dish along with a spicy combination of coriander, salt, chilli powder and green chillies. What sets this recipe apart is that you can make it even more nutritious with the addition of lauki, which is optional.
Health Benefits of Chironji Dal:
If dal is a nutritious bowl of goodness, chironji is no less. And this recipe proves exactly that. Chironji is a powerhouse of health benefits. It can be a great addition to your summer diet since it has a cooling effect on the prickly body. Besides being extremely rich in minerals like calcium, iron and phosphorus, chironji, is also rich in protein and dietary fibre yet low in calories. It keeps your hunger pangs at bay, leading to satiety and eliminating the need to eat more often. Thus, it may prove to be a good addition to you weight loss diet too.


Find the recipe of chironji ki dal here. Try at home and let us know your experience in the comments section below.
About Aanchal MathurAanchal doesn't share food. A cake in her vicinity is sure to disappear in a record time of 10 seconds. Besides loading up on sugar, she loves bingeing on FRIENDS with a plate of momos. Most likely to find her soulmate on a food app.