Barack Obama with his breakfast beer. Photograph: Markus Schreiber/AP
Barack Obama enjoyed a breakfast beer at the G7 summit and a London bar is now serving morning wine. From bloody mary to brandy, an early tipple is a fine European tradition
The sight of Barack Obama downing a pint at his pre-G7 summit Alpine breakfast on Sunday was surprising and cheering in equal measure. Drinking early in the day doesn't usually come with such official approbation. We tend to think of morning drinks in extremes – a bloody mary or swift half to provide a much-needed quick fix after a long night, or perhaps bubbles for special occasion breakfasts. However, in many parts of the world, booze at breakfast is seen as a perfectly normal way to start the day.
The weisswurst frühstück Obama was enjoying is a beery Bavarian stalwart: boiled sausages with mustard, freshly baked pretzels and a cold weissbier, the operative word here being cold. Alcohol in the morning must be fresh and zippy. A bit of fizz, something dry, a hint of sweetness, a sharp kick – as drinks writer Henry Jeffreys puts it, "it's the pick-me-up that makes you mellow". Beer or ale for breakfast is not uncommon in the rest of northern Europe, particularly in Belgium – and even, until as late as the 1980s, in England, where breweries would give free drinks to their workers. While this was probably to counter pilfering, it also continued a long tradition of brewers enjoying a hearty brew to start the day, harking back to the "liquid bread" of 16th-century friars. It would seem there is more to an early-morning pint than just hair of the dog.
Around the Mediterranean, you'll often see older patrons having a caffè corretto, the espresso quite literally "corrected" with a shot of something stronger: grappa, sambuca or brandy. It is a habit Mitch Tonks and Mat Prowse adopted at a fish market in Spain 15 years ago; they call it their morning fire. The grappa is sometimes substituted with armagnac, Fernet-Branca or whatever other local spirit the two chefs encounter on their travels. "It takes the body by surprise," writes Tonks in his new cookbook, The Seahorse. "We have found that in this moment of lightness and clarity we have made our best decisions." Which makes the Seahorse restaurant staff living proof that drinking in the day might not actually render working minds as useless as you'd think. It's all about being restrained: "The trick is to have just one glass," says Tonks, "otherwise the surprise is spoiled."
London wine bar Vinoteca has just opened a Kings Cross branch, the first to serve breakfast. "You don't have to not drink wine early in the day," counsels co-owner Brett Woonton. Woonton and his partner, Charlie Young, focused on bottles that would work best with breakfast, plumping for lightness and freshness over full-bodied heft; drinks that would be accessible and approachable. So they have got a pink moscato, the sweet, fruity fizz of which sits handsomely with a plate of pancakes; a slightly frizzante, dry red bonarda that cuts judiciously through the richness of a meaty breakfast; and a German riesling to pair with fresh fruit or muesli.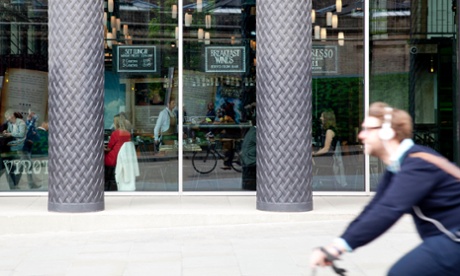 For Woonton, a good breakfast wine should be the oenological equivalent of an early-morning swim: invigorating and enlivening. And that is a strategy tried and tested in Sicily. Food writer Rachel Roddy, the author of Five Quarters, says her partner's grandfather, a Sicilian farmer, "drank a litre of white with his breakfast of bread and caponata every single morning at six". That would be followed by a whole lemon, eaten like an apple, before he left the house. "He also drank a litre for lunch," she continues "and never drank water. He was tiny, without fat, as strong as a horse and he lived until 95."
The thought of all that wine, particularly without water, is a terrifying prospect, but there may well be something in it in moderation. Breakfast, it is becomingincreasinglyclear, is the meal of the day – maybe a celebratory tipple should become a mainstay on the menu.