French master baker Eric Kayser eats bread three times a day, and he thinks you should too. On tour in Sydney, he shares his top tips for the perfect loaf.Eric Kayser has no time for your low-carb diets. The fourth-generation French baker and occasional marathon runner has built an empire on a love of bread, a love he believes remains universal in spite of global trends encouraging health-conscious people to step away from the gluten.
For proof, he can point to the success of his own boulangeries. The first opened at 8 Rue Monge in Paris in 1996; now there are 29 Maison Kayser locations in Paris alone and another 50 worldwide, all of which bypass the use of industrial yeast in favour of natural bread starter levain.
Kayser spoke to Guardian Australia in Sydney on the promotional tour for his new book, the Larousse Book of Bread, about how to start making your own bread and why you should always judge a bakery on the quality of its baguettes.
On your first bake
"The baguette is sometimes more difficult to realise nicely at the beginning. I think people need to go step by step at home, because the baguette is a little complicated. You need to find the good flour, with a protein percentage of 11 or 11.30. That's number one. Number two is kneading very nicely. Number three is you need to have very perfect fermentation. For example, if you put five grams of dry yeast you need to keep one hour, one-hour-and-a-half, for first fermentation. So you need to organise yourself very nicely.
"And I think sometimes the simple things are the best for me, because you can see if a bakery is good with the baguette, you can see if a bakery is good with the croissant, you can see if bakery is good with a sourdough. They are simple but difficult to do.
"At first you start with boule and after you can go perhaps to the baguette. Step by step, people need to learn."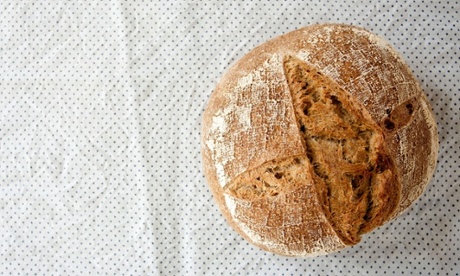 On building a quality foundation
"A good ingredient is a good ingredient. You need to buy the best walnut, the best cranberries, the best raisins, the best olives, kalamata olives, to do a good bread. If you want to put olive oil you need to take extra-virgin olive oil to put in your bread.
"It's similar to when you cook. If you want to cook a chicken you need to find a good chicken. If you want to cook the beef you need to find the best beef. It's the same for every recipe. Buy good ingredients. Put that in your bread and you will have a good bread."
On low-carb diets
"I think it's crazy, you know? Three years ago we're starting with the gluten-free because coeliac in the population of the world I think is between 1% and 3%. And 10% or 15% of people they think sometimes if they stop the gluten for one week or two weeks, a year, it will be good for their body. For this, we do the gluten-free bread.
"But carbohydrates, you know, I think for all the people usually bread is very good. Me, I eat bread three times a day, and you see, of the 65 million people in France, I think perhaps 60 million people eat bread every day. Two times, three times, and they are good. I think it's just crazy.
"Some people cannot eat meat, some people cannot drink coffee, some people cannot eat the gluten. It's OK, but it's just a small part of the population. But sometimes just to sell a book or just to have good advice for the TV people say, 'Oh, you can do that, you can't do that'. I think ... sometimes, it is just crazy. We the people eat the bread since thousand and thousand of years. If it is not good for our body we would know for sure."
On the egalitarian appeal of bread
"All the people, they can buy bread, a good piece of bread. Sometimes it's a little more expensive but it's not a lot. So when I go to a bakery and I see the morning that the homeless can buy our bread and they are happy to eat that, I'm just happy because I think you need to find a way [to feed all the people] and all the people need to be happy with that. So we have two different types of customer in our shop. It's just beautiful."
Top Photo: Eric Kayser – French bake in Sydney. Photograph: c/c