A long weekend is always welcome. And when this year
Mahashivratri
fell on Monday, 07 March 2016, there were many a cheers that could be heard. After 12 years, this festival has fallen on a Monday. But what really is Mahashivratri all about? Do we really know?

Why is Mahashivratri Celebrated?
There are various theories to the origins of this Hindu festival. It symbolises the night when Lord Shiva performed the famous 'Tandava Nritya'. The term Mahashivratri is derived from the three words - Maha, Shiva, Ratri. It is thus, a night to celebrate Lord Shiva in all his glory. It literally translates into - The great night of Shiva.
Mahashivratri is also supposedly marks when Lord Shiva got married to Goddess Parvati. Thus, the day is doubly auspicious as the cosmos witnessed a convergence of two mighty divine powers.
According to spiritual guru Sadhguru, the significance of Mahashivratri differs from person to person. For a family man, it is Lord Shiva's wedding anniversary. And for ascetics, the night marks the moment when Lord Shiva went 'absolutely still' and became one with Mount Kailash.

How is Mahashivratri Celebrated?
This auspicious day, like many Hindu occasions, is celebrated by observing a fast. The fast is dedicated to Lord Shiva. Shiva Lingas are bathed with water, milk and honey, signifying purification of the soul. After this, vermilion paste is applied to it, representing virtue. In addition, flowers, fruits and bel leaves are offered to Shiva Lingas across the country, marking gratification of desire. Incense is burnt and lamps lit to mark the occasion.
People get together in temples, etc. and chant 'Om Namah Shivaya' all night long.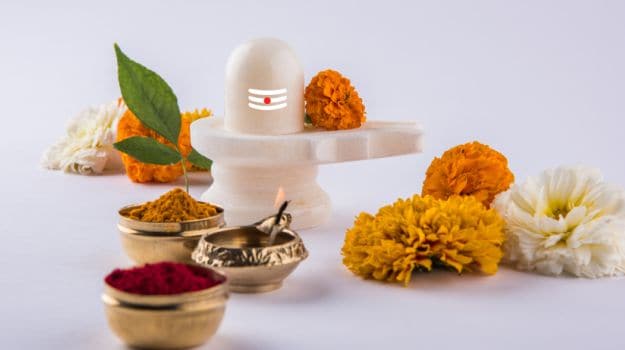 The Most Spiritual Night
Hindu festivals are based on the lunar calendar and Mahashivratri falls on the sixth night of the dark phalgun. Easier to understand, the fourteenth day of every lunar month (the darkest night) is called Shivratri. There are 12 Shivratris in the year, but this particular one is of great significance.
According to astrology, the planetary positions on this day are aligned favourably, evoking spiritual energies. Particularly, the northern hemisphere of our planet is positioned such that every person's inner spiritual energy surges. To use this opportunity well, a night-long vigil is held honouring Lord Shiva (jaagran). It is a night full of prayers, chanting and reverence.