Summer may not be the favourite of all seasons for most, but what I love about this time of the year is the refreshing range of fruits that it brings along – right from mango and lychee to
kathal
and
kharbooja
. The hot season also showcases an indigenous fruit, which is not as popular but those who are aware of its existence love it with whole heart – the
bael
.(
7 Things You Should Eat This Summer
)In most parts of India, it is a ritual. Come summer, and you will see fruitsellars with their two-wheeled carts going all about the neighbourhood displaying the bulky fruits and urging you to buy a glass of juice to beat the heat. I have spent many afternoons relishing those tall glasses of freshly squeezed juice that tastes like a mix of tartness similar to that of papaya and tang. Not everyone is fond of its flavour and the stickiness, and it does require some getting used to. Therefore, the fruitsellers would often squeeze generous amounts of lemon and spoonful of sugar to spike up the flavour.
The Indian Roots
Bael
or wood apple is said to be of Indian origin even though it is also commonly found in Southeast Asian countries. In appearance, the fruit is bulky with a tough outer while on the inside it contains bright yellow flesh with numerous seeds. So while making the juice, the ripe pulp is squeezed and strained to remove the seeds.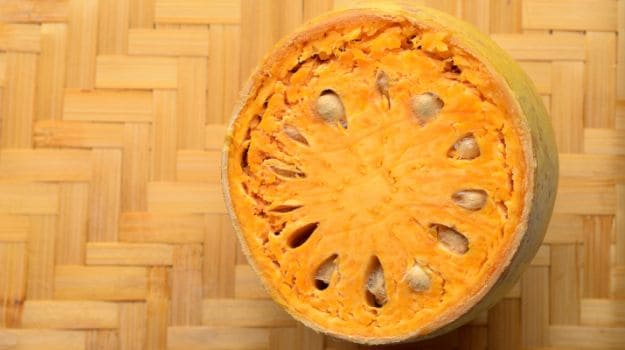 In southern India (Karnataka, Andhra Pradesh and Tamil Nadu) though the fruit is called by various regional monikers, the tree is well known as
bilva
. The Hindus consider it to be holy as it holds great significance related to Lord Shiva and his wife Parvati.It is mentioned in the
Ayurveda
too, where it is written that every part of the tree (seeds, root, fruit, bark and leaves) have numerous medicinal properties. The juice of the fruit is considered to be good for gastrointestinal problems, peptic ulcer, jaundice, obesity and gynecological disorders. It acts as an appetite stimulator, a rejuvenating agent and also has anti-cancer and anti-diabetic properties.The leaves on the other hand are used as dietary supplements and in treating sinusitis and jaundice. It is said that the infusion from the leaves is extremely good for gastric functions and a medicated oil prepared from it helps immensely in treating respiratory ailments. One common home remedy is mixing a little quantity of the oil with sesame oil, black pepper and black cumin, and applying it regularly on the scalp before bath to keep cough and cold at bay.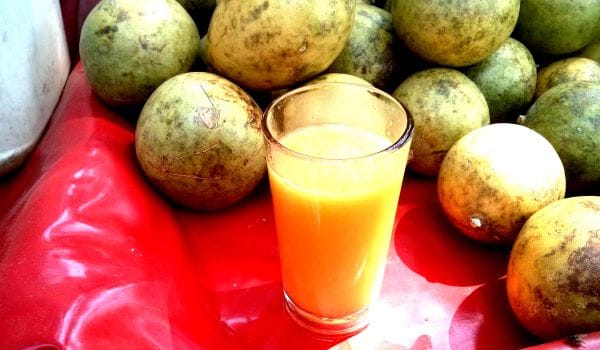 Seasonal Ingredient
Also known as Bengal quince and golden apple,
bael
is most commonly eaten as a fruit or made into juice across the country. While the Bengal version is called
bel panna
, which contains the fruit juice, sugar and lemon juice; another popular preparation is
sherbet
, which is made by beating the fruit pulp with milk and sugar.Because of its sticky nature and the slight bitter aftertaste, it works brilliantly as a marmalade or jam. The pulp is cooked in sugar along till the flavours are fully developed. Some also like to throw in some spices such as cinnamon, star anise, etc. which makes it an absolute treat when spread on toasts or wraps. Also,
bael
has anti-fungal properties and therefore lasts longer on the shelves.When I make preserves with the fruit, I like to add in a little ginger to offset the bold flavour. Much like other fruits, it can also be used to make sinful desserts and fruit salads. The trick is to be able to balance the flavour with the rest of the ingredients. Try and get a good mix of spice, tang, heat and sweet. In Indonesia, the locals add in tamarind pulp with the fruit juice to enhance the flavour while there are also some who mix in guava.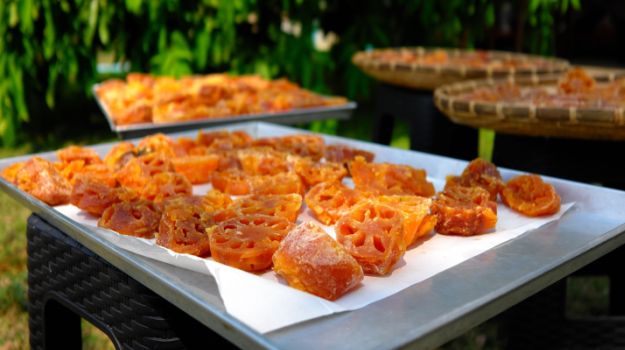 Little toffees are also made by using the fruit pulp with sugar, grated coconut and oil. Most Ayurvedic practitioners advise chewing the toffee for health benefiting reasons. Truth be told, though this fruit is native to India, it doesn't have a fan following such as other summer fruits, but a lot of people do seek it out solely because of its nutritional properties. It is an acquired taste but definitely worth the effort.(
Summer Recipes
)